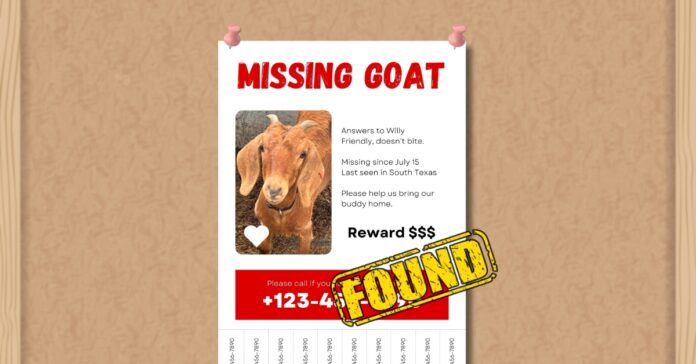 Great news! Willy, the rodeo goat who had been missing since July 15, has finally been found after two weeks on the lam.
Willy was found by Ricardo Rojas III in his backyard last Monday. The goat was about a mile away from where she escaped.
The 16-year-old boy and Sammy Ambriz, a family friend, spotted the goat and chased her, unsuccessfully trying to lasso her. Luckily, Willy's head got trapped in a fence, and that was when Rojas and Ambriz managed to capture her.
The goat was being looked by all the community of Willacy County, 300 miles southwest of Houston, and with a population of roughly 20,000. Since the goat went missing, the Willacy County Livestock Show and Fair's Facebook page had posted regular updates of the search.
The goat didn't even have a name when it went missing, it was after the goat found fame that she received her name, after Willacy County.
Business supported the search by donating prizes and gifts, which included brisket, beer, bales of hay, gift cards and passes to the livestock shows; all of these gifts together were worth a total of $5,000.
"Even a little rodeo goat is important and has shown us and taught us that we need to look after each other," Alison Savage, president of the Willacy County Livestock Show and Fair, said "and we need to take care of one another, and together, there's pretty much nothing we can't do."