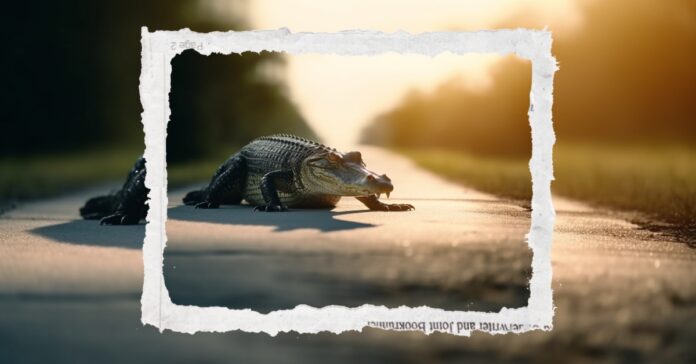 Last Wednesday, an alligator was disrupting the traffic in northeast Houston. The 10-foot, 7-inch reptile was found on the East Sam Houston Service Road at Garrett Road.
"So this little fella was causing a bit of a traffic jam on the E. Sam Houston Service Rd. at Garrett Rd," wrote Harris County Precinct 3 Constable Sherman Eagleton on a Facebook Post. "Thank you Bayou City Gator Savers for coming to this big guys rescue."
Bayou City Gator Savers wrangler Timothy DeRamus went to rescue the alligator and remove it from the road. He posted a video on Facebook of the animal creeping through the grass. He said he wrangled the beast on his own.
Also, Eagleton shared some photos on Facebook where some people are taking photos of the alligator and of DeRamus with the reptile. "Be careful, alligators are on the move. Use caution and do not attempt to trap them on your own," he warned.
With summer, alligators are making more frequent appearances in Texas, since it is the season they move to breed and find new habitats.
Texas Parks and Wildlife recommends that if you see an alligator that is not approaching people, wait a few days or even a week before contacting TPWD. This is because alligators have a natural fear of humans and will leave the place on their own.