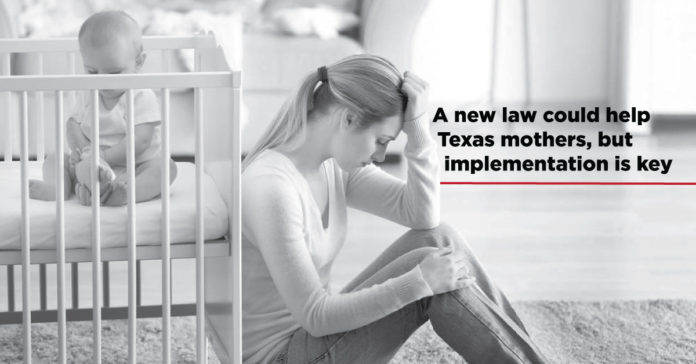 Texas is ranked in the top 10 states for the highest percentage of women experiencing postpartum depression—not surprising for a state with one of the highest maternal mortality rates in the developing world due to what many experts suggest is lack of access to healthcare.
In light of these statistics, any law that aims to combat these problems is a welcome development—as long as it makes a real difference in the lives of Texas women. The Legislature recently passed a bill requiring a strategic plan to fight postpartum depression, so what does that actually mean for Texas women?
About "80 percent of women who experience postpartum depression will go untreated," said Kim Jones, MA, Licensed Professional Counselor, Licensed Marriage and Family Therapist and Associate Clinical Director of the Center for Postpartum Family Health in Houston.
"There are still a lot of women falling through the cracks, and a lot of that is due to them not being diagnosed or having prior knowledge of what to expect," said Jones.
House Bill 253, which goes into effect September 1, aims to target increased awareness for postpartum program providers; form a referral network of providers; increase access to peer support services for women; secure funding for screening and other services; cut down the stigma surrounding postpartum depression while increasing public awareness.
But implementation could be tricky.
"The words depression or anxiety, those labels can be damaging if they're not offered in the proper context with a proper explanation of what that really means," said Jones, who is a proponent of early education for women, expectant mothers and their families.
"Early education would be the one thing I would like to see; what to look for and where to get help," said Jones.
Her sentiments to educate women before, during and after pregnancy to counteract this internal stigma are shared by Sudhakar Selvaraj, MD, PhD, a psychiatrist with McGovern Medical School at UTHealth and UT Physicians.
"Depression or mental health problems during pregnancy is very much under recognized," said Dr. Selvaraj. "The lack of awareness is still a big issue…and sometimes they [women with postpartum depression] try to hide it and mask it as much as possible. The stigma is massive."
Diagnosis is often dependent on a referral, but many providers hesitate because "they don't know where to send the patient," said Jones. Creating a referral network, one of the bill's strategic plan tasks, could help, but Dr. Selvaraj and Jones cemented the fact that creating and improving screening processes is the most important task at hand, and this is not one of the primary goals listed for the future Postpartum Depression Strategic Plan.
"Nurses, psychologists, family care doctors, psychiatrists, OBGYNs, pediatricians, if they know how to recognize and screen for depression and anxiety during and after pregnancy, that will be the biggest achievement," said Dr. Selvaraj. "Screening is vital."
With the right plan in place, those cracks might begin to shrink and Texas might see fewer families negatively impacted by postpartum depression, but they've got much more work to do when it comes to women's health. Legislators have started something powerful, but will they implement the resources to see it through?