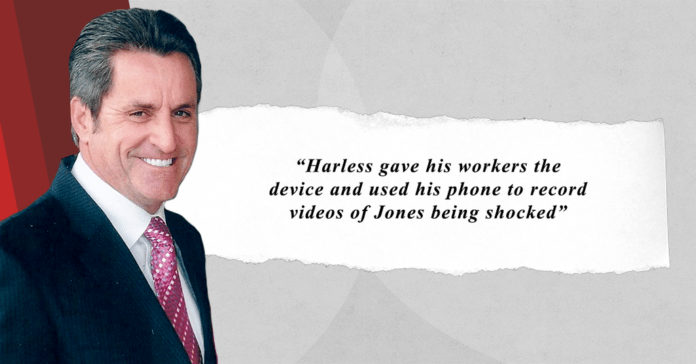 Sam Harless likes to tout his business experience as part-owner of Fred Fincher Motors as a strength in his candidacy for District 126 in the Texas House of Representatives.

What Harless isn't telling voters is that business experience includes allegedly providing his staff with a stun gun and repeatedly shocking an employee, while recording it for posterity. Horrible Bosses comes to northwest Harris County.

Bradley Jones, who was fired from Fred Fincher Motors in 2013, filed a lawsuit against Harless and his wife, former State Rep. Patricia Harless (R – Spring).

"I found nothing funny about being attacked from behind, urinating my pants, screaming, the pain, the embarrassment, the humiliation done in front of your coworkers," Jones told news station Fox 26.

The couple did not respond to Fox 26 when contacted.


Jones' lawyer Paul Valdevieso contends Harless played a pivotal role in the pranks. Valdevieso said Harless provided the stun gun and used his phone to record the pranks, reports CBS News. "He had to change his underwear a couple of times. The shock, the pain, I mean you can hear him screaming on the videos," Valdevieso told CBS News.

Jones' allegations against Harless caught so much attention that he was featured on Inside Edition. Harless told the outlet the lawsuit was "frivolous" without any other comment.
Harless should know the difference between right and wrong since he claims to be a leader in the community. He sits on the Harris County Constable Precinct 4 Advisory Board and the Harris County Sheriff Advisory Board, according to his website. How can a boss accused of creating an unsafe work environment advise our police force on its actions?

Not only has Harless reportedly created a hostile work environment, he doesn't want to pay people a fair wage. Harless opposes raising Texas' minimum wage,  which at $7.25 per hour is the lowest possible wage set by federal law. Even Walmart, the largest employer in the country, has agreed to pay Texans a minimum wage of $11 instead of $10 an hour.

Harless says he wants to create a "safe environment to work and raise a family." But getting hit with a stun gun and low wages hardly seems like a dream job. Voters deserve better than politicians like heartless Harless.