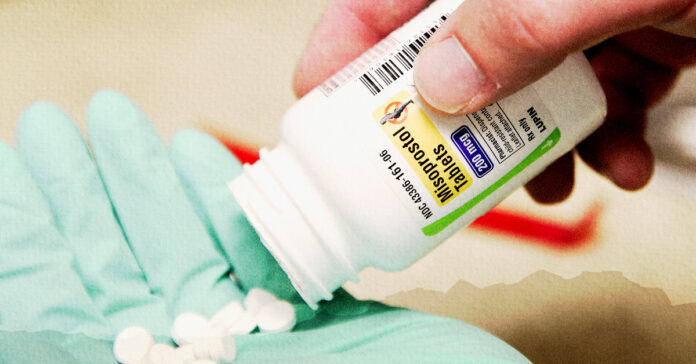 Originally published by The 19th
The most common method of abortion appears to be growing substantially more expensive thanks in part to new state-based restrictions that have made it more difficult and expensive to provide.
The average price of a medication abortion — which last year accounted for the majority of all abortions — grew from $495 in 2017 to $560 in 2020, per a study published Monday in the journal Health Affairs. The authors expect that trend to have continued into 2022. At the same time, clinics are growing less likely to accept insurance that could help relieve some of that burden. 
The cost increase is significant. In 2020, the authors note, the Federal Reserve estimated that 1 in 4 Americans did not have $400 in savings for an emergency medical expense.
"We know from previous research we've done — people report having not to pay their bills to cover this unexpected cost, having to borrow money from people around them, having to sell things like their TVs," said Ushma Upadhyay, the study's lead author. "We have evidence that this is a tremendous burden for people."
The research underscores the impact of decades of state-leveled abortion restrictions, which have made the care more expensive to provide.
In many states with abortion restrictions in place, clinics have been required to comply with particularly strict regulations — meeting the same construction standards as ambulatory surgical centers, or taking specific measures to dispose of fetal remains — even though doctors agree those measures are not medically necessary. Those restrictions appear to have driven up the price of providing both medical and surgical abortions. That holds particularly in the South and Midwest, where medication abortions cost more on average than in the Northeast, even though other medical expenses might typically be lower. (Medication abortions appear to cost the most in the West, a phenomenon the researchers attribute to higher costs of living.)
"There are certainly some reasons why those costs might be higher, particularly around what it means to comply with onerous and unnecessary clinic regulations and to comply with security and to ensure you have a safe space for patients and staff," said Elizabeth Nash, who tracks state policy at the Guttmacher Institute and was not involved with this paper. "There are just costs that are borne by these clinics that aren't in other places."
The findings come from analyzing a large national database of abortion providers, collecting price details from publicly available information on providers' websites, and directly calling abortion providers when prices weren't available. But they aren't complete.
Medication abortions can be performed through the first trimester. But after 10 or 11 weeks, patients can only receive surgical abortions. And Iin many cases, the researchers weren't able to find out what those second-trimester abortion would cost, particularly ones performed later in pregnancy, which are much more expensive.
As a result, the paper may not fully capture just how much prices have gone up, Upadhyay noted, pointing in particular to the study's finding that, in 2020, a second-trimester abortion cost $895 on average.
"For a later [second-trimester] abortion, the cost could be as much as $4,000," she said. "This likely grossly underestimates the range of potential charges."
The cost burden takes on particular relevance ahead of this summer, when the Supreme Court is expected to rule in a case known as Dobbs v. Jackson Women's Health Organization. Court observers believe it will use that decision to either overturn or substantially weaken the protections established by Roe v. Wade, the 1973 ruling that guaranteed the right to an abortion up until a fetus can independently live outside the womb.
Such a ruling could allow individual states to further restrict access, or possibly even ban abortion entirely, in turn making providers even harder to find and more expensive to reach.
"If there is a major change to abortion access, people are going to have to travel even further to access abortion services," Upadhyay said. "The increases in procedural costs — coupled with the new increases in travel costs — really could push abortion out of reach for many people."
And, the new study shows, just as abortion prices are going up, the number of providers accepting health insurance is declining. From 2017 to 2019, the researchers found, the number of abortion facilities accepting at least one insurance plan fell nine percentage points, from 89 percent to 80. That figure held steady in 2020, and the researchers believe the percentage of abortion providers taking insurance has either held steady or continued to decline.
Even though most facilities will accept some kind of health insurance, there are few plans that actually cover abortion — a result of state and federal laws limiting abortion benefits in both private coverage and Medicaid, the public health insurance program for low-income people. As a result, most people still pay for abortions out of pocket.
If fewer clinics take any insurance coverage whatsoever, that further increases the number who will have to pay hundreds or even thousands of dollars from their own savings, Upadhyay said.
"All of this points to an overall reduction in access," she said.
For many, the financial burden of an abortion is growing only more onerous as more people have to travel further from their homes to access the procedure.
In Texas, where a six-week abortion ban has been in effect since September, about 1,400 people have left the state each month to terminate a pregnancy. While almost half of those people have traveled to neighboring Oklahoma, some have gone as far as Mississippi and Florida for care. 
Texans have reported that the total cost of getting an abortion out of state was several thousand dollars, per recent research from the Texas Policy Evaluation Project. Some have said they fell behind on other bills, including rent and car insurance. Others didn't buy food. 
And because Texans now have to travel farther for care, and because fewer abortion providers are available, clinics have reported seeing patients later in pregnancy than is typical — including in the more expensive second trimester.
Idaho's state legislature has passed a ban similar to Texas' — though it has not yet taken effect — and Oklahoma lawmakers are debating one as well. If more comparable abortion bans take effect, that could push more people seeking abortions to have to wait longer and ultimately pay more for care, Upadhyay said.
"It's going to take them more time to make travel arrangements. It's going to take them more time to plan their trips. That will actually end up pushing them further in gestation and leading to more expensive abortions," she said. "That is, if they can get out of the state at all."