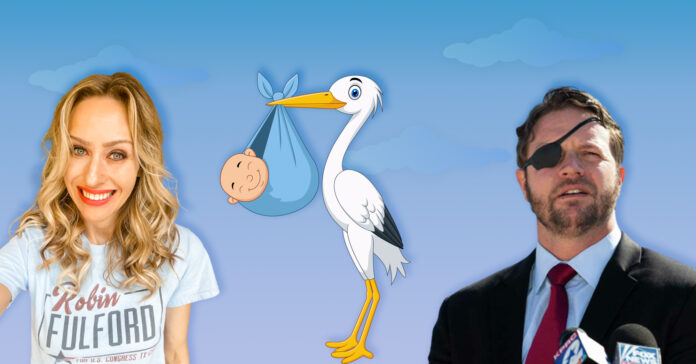 The leaked draft of the Supreme Court decision striking down abortion protections has sent a shockwave through the country as reproductive health advocates panic and forced birth proponents celebrate the possible new abortion-free landscape. One of those is Rep. Dan Crenshaw (R-Houston), who tweeted out: "Less abortion, more adoption. Why is that controversial?"
The remark was met with intense scorn by his Democratic opponent in November, Robin Fulford.
"Dan Crenshaw is a legislator," she says. "If this is an alternative he believes in, then he should be working on legislation to make it accessible. He should understand the complexity of the issue. He's not a pundit. Allowing politicians to make statement like this, when these same politicians have the power to make legislation and do something about these issues is disingenuous."
Fulford called attention to Texas' fundamentally broken foster care and adoption system, which is under intense fire for its failures under Republican leadership. A study from experts presented to Governor Greg Abbott showed that the system is massively underfunded and will require new facilities to be built simply to accommodate the load of children without homes under current numbers. On top of that, the state is reeling from the revelation that an official facility likely ran a child sex trafficking ring, and that the Texas Rangers are possibly being used by Abbott to exonerate the state of responsibility instead of doing a proper investigation.
All of this paints adoption in Texas, which currently has the strictest abortion ban in the nation, as something that is hardly an alternative to reproductive choice.
"Our system is underfunded as it stands," says Fulford. "It makes since for Crenshaw as a member of the GOP in Texas to say something like that because he's got company. Abbott will talk about caring so much about children while he and Paxton are going after the parents of trans kids giving those kids lifesaving care, but they do nothing about the underfunding of our foster system, or rates of child hunger, or the uninsured."
The governor has called numerous special legislative sessions since the end of the official session last Summer. In those, he pushed the draconian abortion ban, restrictions on voting, and a bill to keep trans kids from playing sports. Despite the damning report of the Texas foster system and headlines about abuse within facilities, he has not called another special session to deal with the issue.
Nor is adoption a solution for the problem abortion currently addresses. Fulford pointed to a Twitter thread by adoptee rights advocate Rebekah Henson. It explains that adoptees still do not have equal rights in America. Specifically, they sometimes lack proof that they were born in the country or access to their genetic heritage so that they can get preventative healthcare.
"It's so fascinating to me because when we throw out ideas about adoption, especially in our country, we laud adoptive parents," says Fulford. "We call it a beautiful thing, but we end our thought process there. The same patriarchal, puritanical mindset that creates anti-choice people and legislation is what makes adoption so stigmatized. Throwing out an alternative like adoption as something that has no adverse impact is irresponsible. It's not a replacement. The majority of the advocacy around adoption is pro-choice. I have friends in the field and they are all pro-choice because they are intimately familiar with the trauma of both the adoptees and the birth parents. It's a tremendous cost to people. It's not all unicorns and sunshine. It just isn't."