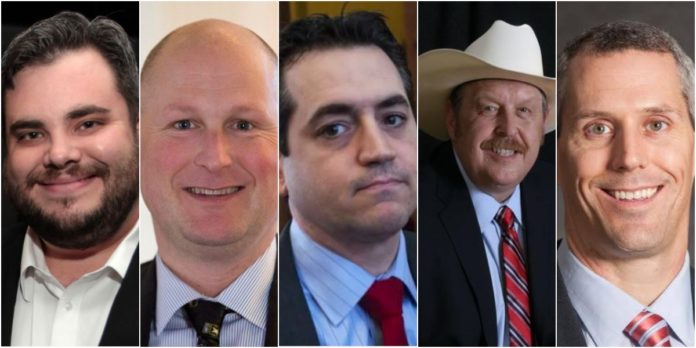 Americans' attitudes on sexual assault are changing. Public outrage, triggered by brave disclosures of past abuse perpetrated by (mostly) men in politics, the media, business and the entertainment industry is forcing a conversation about how to better protect women in the workplace. Our state capitol isn't immune, with multiple articles accusing elected legislators of preying on interns, staff, lobbyists, members of the media and even fellow legislators.
Change comes slowly. Even when the vast majority of legislators who try to do the right thing, there are still those who stand in the way of progress. In recent years, there have been efforts to better protect survivors and to hold predators accountable. Some legislators though, have voted against these reforms.
In 2015, the HB 189 empowered survivors by extending the statute of limitations for civil suits against sex offenders. The bill also removed all statute of limitations in criminal sex assault cases if there is probable cause that the defendant committed the same or similar crime against five or more victims.
The bill was overwhelmingly supported by representatives in the State House, and it passed unanimously in the Senate. Representatives Jonathan Stickland (R – Bedford), Matt Rinaldi (R – Irving), Matt Schaefer (R – Tyler), Cecil Bell Jr. (R – Magnolia) and Tony Tinderholt (R – Arlington) were the only five representatives to vote against the bill.
The Quorum Report (reprinted on the Houston Chronicle website) got the following reactions from Stickland's, Rinaldi's, Tinderholt's opponents at the time they voted against the bill:
"Before this reform passed the Republican Texas legislature and was signed by Governor Abbott, all a rapist had to do to shield himself from paying for his crime was to force his victim to keep her mouth shut 10 years from the date of the offense," said (Sam) Fisher, who is Stickland's opponent on the March ballot. "The idea that a predator could use subtle pressure to keep a victim quiet to avoid paying is a nightmare," Fisher said. "I don't know how he justifies it."
There was no immediate comment from Stickland, who has said however that he regrets his previous comments about marital rape. Stickland, Rinaldi, Tinderholt, and Schaefer all employ Luke Macias as their consultant and spokesman. Macias said he was looking into the issue.
Former Rep. Bennett Ratliff, who is running against Rep. Rinaldi in the Republican primary, said "Bill Cosby was arrested yesterday for an alleged sexual assault that happened 11 years ago and Rinaldi apparently believes that Cosby and those like him should have no fear of being forced to pay for such crimes in Texas."
Ratliff pointed out that the group that voted no was small and "One (Stickland) is an object of international scorn for his revealed comment about marital rape, and the other's then-Chief of Staff was just arrested for soliciting a 12-year-old girl for sex over the internet."
Ratliff was referring to Rep. Schaefer's former Chief of Staff Judd Quarles, who was recently arrested on charges of soliciting a minor under 14 years old in East Texas. Rep. Schaefer has no primary opponent, by the way. Neither does Rep. Bell.
Tinderholt's Republican opponent Andrew Piel in Arlington similarly asked the incumbent for an explanation.
"I stand with every husband and father in Texas who is appalled by Representative Tinderholt's vote," Piel said. "He must explain why he would support the interests of pedophiles and violent rapists at the expense of their victims, many of whom suffer mentally and physically for many years after the assault."
Stickland justified voting against protecting rape victims by claiming the bill was "poorly written" and creates "he said she said situations."
If the bill is so poorly written though, why did an overwhelming amount of Stickland's colleagues vote in favor of it? Why was it signed into law by Texas Gov. Greg Abbott?
Tinderholt, Rinaldi and Stickland have a history of voting against bills that protect victims of sex trafficking, who usually are women and underage girls and boys. Stickland has also courted controversy with outrageous comments about rape, once claiming "Rape is non existent in marriage, take what you want my friend!"
Texas politicians should be protecting rape victims. Instead, a handful have used their voices and votes to empower rapists.