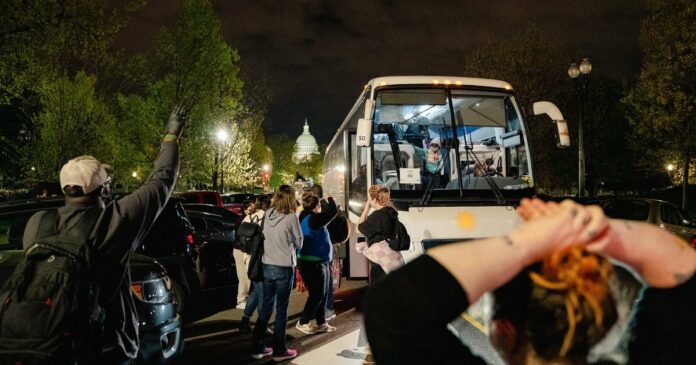 In a pre-dawn political stunt, Gov. Greg Abbott once again ordered two buses of asylum seekers at Texas taxpayer expense, this time to a D.C. neighborhood. Roughly 100 asylum seekers were intentionally dropped off in front of Vice President Kamala Harris' residence located on the sprawling grounds of the U.S. Naval Observatory. (USNO) Aid group volunteers had been waiting since 5:30 am for the migrants outside the observatory, but were told at the last minute that the buses would unload at Harris' home instead.
According to CNN, volunteers ascertained that around 70% to 80% of the migrants are from Venezuela, among them families and young men. Many are attempting to get to their families living in the US in such cities as Chicago and New York.
As his gubernatorial challenger Beto O'Rourke gains on him in the polls, Abbott continues to crow about his Operation Lone Star and embarrass Texas in the eyes of the nation and world.
This morning's actions simultaneously disrespected the human race, the office of the Vice Presidency, the Secret Service, the United States Navy, not to mention the volunteers from the organization SAMU First Response, a humanitarian nonprofit.
Abbott has been unable or unwilling to manage the process of turning asylum seekers over to Federal authorities. Overall, his multi billion dollar border effort has been a dismal failure, yielding nothing but violation of the civil rights of the state's Latino communities.
Since Abbott started this "road show" earlier this year, other GOP governors have also recently begun to engage in this dubious activity. Welcome to America in 2022, where this apparently legal form of human trafficking is carried out for political theater. The cost to the state for the forced busing is estimated to be well over $12 million dollars.
But officials of both parties have seemingly chosen to ignore the causes of the influx of seemingly countless migrants, one of which is the obviously failed U.S. foreign policy in Central and South America dating back decades.
The vice president's official residence has been on the grounds of the observatory in Washington since the 1970's. Founded in 1830, the agency collects astronomy data in order to provide navigational information to the Navy and the Department of Defense. (DOD) It also serves as the official source of time for the entire U.S. It is not open to the public.