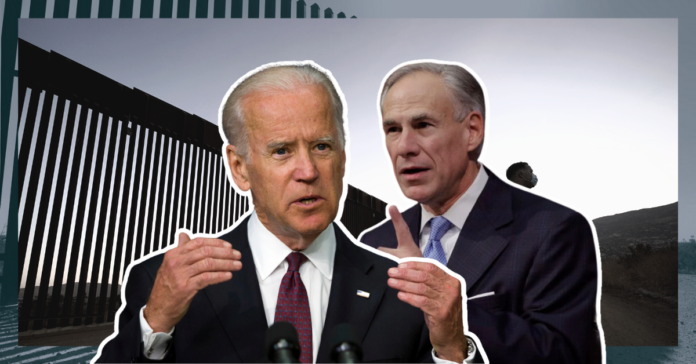 After a landslide victory, Governor Greg Abbott is starting his third term the same way he has spent the last year of his second; by accusing President Joe Biden of failing to secure the border and justifying his increasingly expensive boondoggle, Operation Lone Star. This week, he sent a letter to the president.
"Your inaction has led to catastrophic consequences," it reads. "Under your watch, America is suffering the highest volume of illegal immigration in the history of our country. This past year, more than 2 million immigrants tried to enter the country illegally, coming from more than 100 countries across the globe. Worse yet, your failed border policies recently prompted a United Nations agency to declare that the border between the United States and Mexico is the deadliest land crossing in the world."
Abbott seems to be implying that the border is a lawless place where violence reigns supreme. This is a gross misinterpretation of the International Organization for Migration's (IOM) Missing Migrants Project (MMP) study that made the declaration. The reason it has been declared the most dangerous is because of the number of migrants who die attempting to enter the country, usually because of harsh conditions such as being transported in unairconditioned trucks or failing to cross the desert.
The governor also accuses Biden of "opening our border," which is simply not true. While Biden has lifted restrictions on certain countries put in place by former President Donald Trump and has ceased construction on new portions of the border wall, there is no "open border policy. Abbott has frequently accused Biden of this, mostly because Biden has sought to end expedited deportations set up under Trump, known as Title 42. Experts have consistently referred to Abbott's claims that Biden has enabled or planned open borders as "absurd."
The letter explains that Abbott will be increasing the force used by the Texas Department of Public Safety at the southern border as well as the Texas Military Department. Abbott has repeatedly referred to the arrival of migrants as an invasion.
In practical terms, this means that Texas will likely continue Operation Lone Star for the foreseeable future. The military deployment has been an abject failure that is rapidly going broke even as it parasitically feeds on other Texas institutions to pay its $4 billion price tag. In addition, the mission has been marked by the mistreatment of agents leading to multiple suicides as well as accusations of entrapment by personnel trying to rack up arrests.
So far, the White House has not responded to the letter or Abbott's apparent assumption of border control duties using flimsy constitutional justification. As Abbott is widely expected to run for president in 2024, his flexing can be seen as an extension of his successful gubernatorial strategy. Fears about the border were the number one issue for Texans according to polls and remain a prime concern among American conservatives. Abbott portraying himself as a general who is fighting off an invasion would be a potent political move, even when his statements conflict with reality.