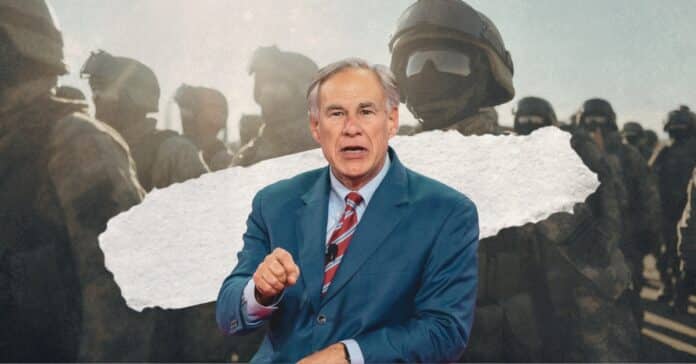 Texas Governor Greg Abbott has strongly criticized President Joe Biden's decision to end Title 42, describing it as a "negligent disregard" and highlighting the urgency of addressing the ongoing border crisis. Abbott reached out to fellow governors, calling upon states to unite and provide resources to the Texas-Mexico border in response to the situation.

While the expiration of Title 42, a pandemic-era rule that allowed border officials to expel migrants without a formal asylum process, has raised concerns about potential chaos in overwhelmed border communities, Homeland Security Secretary Alejandro Mayorkas stated that Border Patrol experienced a 50 percent decrease in illegal migrant crossings in the first two days following the policy's expiration.
Despite this, Abbott emphasized the need for collective action and requested support through the Emergency Management Assistance Compact, which facilitates resource sharing during emergencies.

"Join us in the mission to defend our national sovereignty and territorial integrity and send all available law enforcement personnel and resources to the Texas-Mexico border to serve alongside our thousands of Texas National Guard soldiers and Texas Department of Public Safety troopers," said Abbott's letter.
At present, only Idaho and Florida have agreed to send resources to Texas, according to Newsweek. Florida Governor Ron DeSantis also announced that his state is prepared to assist by deploying 1,100 "assets," including Highway Patrol troopers, National Guardsmen, drones, and boats.

Clear Disapproval

In the days leading up to the expiration of Title 42, Abbott sent an additional 450 National Guard troops to the border, referring to them as the Texas Tactical Border Force. Days earlier, President Biden had already ordered an extra 1,500 federal troops be deployed.

The White House expressed its disapproval, with Press Secretary Karine Jean-Pierre criticizing Governor Abbott for deploying the National Guard without prior notification. She pointed out that Abbott's tendency to prioritize communication with Fox News rather than federal authorities was exemplified by his previous actions of delivering migrants to draw attention.

Echoing this sentiment, Nuñez-Neto emphasized the importance of coordinated efforts with the federal government when it comes to law enforcement personnel at the border, as reported by The Dallas Morning News.

"We need to make sure that any actions taken on the border that involve law enforcement personnel are coordinated with the federal government," he said, contrasting "outstanding coordination" with local authorities with Abbott's approach, and that of Florida Gov. Ron DeSantis, who also has sent migrants without warning to Democratic enclaves far from the border as a pressure tactic."We have seen … at times that Governor DeSantis and Governor Abbott take actions that are being done, really for purely political reasons and that do not involve the kind of coordination that we really need to see at the border," he said.