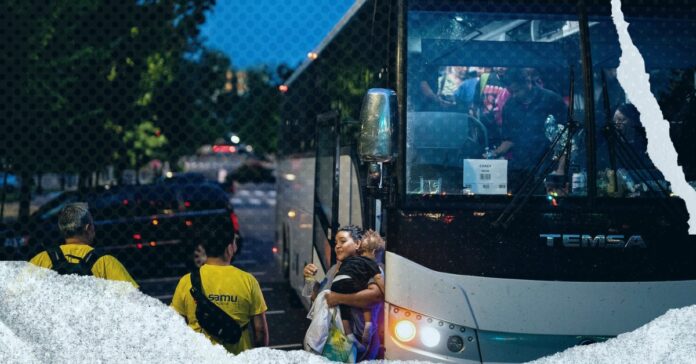 At the order of Gov. Greg Abbott, more than 100 migrants including children arrived at Vice President Kamala Harris' residence in Washington, D.C., on Christmas Eve — during a historic bomb cyclone event — in the latest instance of Republican governors busing migrants to Democratically controlled cities.
A CNN team reported that they saw the migrants being dropped off, with some dressed only in T-shirts in the freezing weather. Multiple busloads of migrants were dropped off in front of Vice President Kamala Harris' residence in Washington, DC, in 18-degree weather late Saturday.
Videos shared on social media show the migrants clutching blankets in the 18-degree weather after the two-day trip.
Local volunteers scrambled to arrange for transportation to a local church, where the migrants were given shelter from the freezing weather and were given blankets, food, and other resources.
Abbott then took to social media the next day to praise the celebration of the birth of Jesus. "May the hopeful promise of our Savior's birth bring comfort & joy to you & your family. Merry Christmas, Texas!" in a Christmas morning tweet.
His message also included a Bible verse: "For today in the city of David a Savior has been born for you who is Messiah and Lord."
The Twitterverse exploded with criticism of Abbott, citing the irony of his praising Jesus — who was a refugee — after he had stranded migrants in freezing weather on Christmas Eve.
"This you, King Herod?" wrote Tracy Delaney on Twitter, referring to the 1st Century BC ruler of Judaea whose registration decree forced the family of Jesus to return to their ancestral city to comply with the government requirement.
Amy Fischer, a volunteer with the Migrant Solidarity Mutual Aid Network said the organization had been informed of the busing earlier by an NGO working at the border in Texas.
The Washington Post reported Sunday that Fischer and other volunteers received word that Abbott was sending 110 to 130 men, women, and children on the three buses that arrived at the Naval Observatory, where Harris' residence is located.
"The DC community has been welcoming buses from Texas anytime they've come since April. Christmas Eve and freezing cold weather is no different," Fischer said. "We are always here welcoming folks with open arms."
Fischer added that the migrants were asylum seekers from Ecuador, Cuba, Nicaragua, Venezuela, Peru, and Colombia.
Fischer confirmed that "…the buses were sent by the Texas Division of Emergency Management, which follows the directive of Gov. Greg Abbott's office," yet the governor's office was reluctant to confirm that he sent this latest caravan.
But on Monday, Abbott spokesperson Renae Eze released a statement to The Hill, saying in part that the migrants "willingly chose to go to Washington, D.C., having signed a voluntary consent waiver available in multiple languages upon boarding that they agreed on the destination."
The Biden administration was quick to condemn the incident and said that Abbott did not coordinate with federal authorities that the migrants would arrive in potentially life-threatening cold weather.
"Governor Abbott abandoned children on the side of the road in below-freezing temperatures on Christmas Eve without coordinating with any Federal or local authorities," White House spokesperson Abdullah Hasan said in a statement, per CNN.
Hasan called it "a cruel, dangerous, and shameful stunt," and reiterated the administration's willingness to work with both parties on immigration reform and border security, but added that Abbott's "political games accomplish nothing and only put lives in danger."
El Paso and other Texas cities have struggled to keep up with the number of incoming migrants amid uncertainty over whether Title 42 will continue much longer.
Under Title 42, authorities expelled millions of migrants at the US-Mexico border over the last two years, according to the U.S. Customs and Border Protection. This effectively blocked migrants from making their asylum cases, which U.S. and international law say they have the legal right to do.
And the dangerous winter conditions further complicate the efforts of aid groups and local officials in Mexico-Texas border areas.
This is the latest example of Abbott and Florida Gov. Ron DeSantis competing for the adoration of the MAGA ultra-right by busing migrants to Democratically controlled cities.
Abbott has gained greater national notoriety for busing migrants to so-called sanctuary cities in blue states and launching Operation Lone Star, to the tune of millions of dollars of state funds.
DeSantis is facing multiple legal challenges and investigations for his use of federal Covid relief money sent to Florida to fly migrants from Texas to Massachusetts earlier this year.