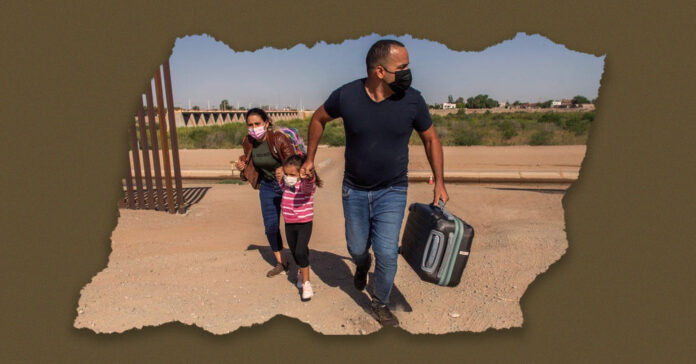 In an unexpected turn of events, migrant crossings at the U.S.-Mexico border have actually decreased since the expiration of Title 42 curbs, according to the Biden administration. The reinstatement of criminal penalties for illegal entry appears to be the primary reason for the decline, said U.S. Homeland Security Secretary Alejandro Mayorkas on Sunday.
Mayorkas stated that border patrol agents have observed a 50% drop in the number of migrants crossing the border since Thursday when the Biden administration implemented new asylum regulations aimed at deterring illegal crossings.
"The numbers we have experienced in the past two days are markedly down over what they were prior to the end of Title 42," Mayorkas said during an interview on CNN's "State of the Union" program. He provided figures of 6,300 border encounters on Friday and 4,200 on Saturday but cautioned that it was still early to draw definitive conclusions about the new regulations' impact.
Mayorkas attributed the decrease in crossings to the resumption of criminal penalties for migrants who enter the country illegally, which occurred under existing law after the expiration of Title 42. The COVID-era rule, implemented under former President Donald Trump, allowed for the quick expulsion of migrants without an asylum process but did not impose criminal penalties.
When asked about the border situation during a bike ride near his vacation home in Rehoboth Beach, Delaware, President Joe Biden responded, "Much better than you all expected." However, Biden stated that he did not currently have plans to visit the border.
Under the Biden administration's plan, migrants are required to schedule an immigration appointment through an app or seek protection in countries they passed through on their way to the U.S. border. If they do not follow the designated process and are caught entering the U.S. illegally, they are prohibited from attempting to enter legally for five years, and other violations may result in prison terms.
Officials from border communities agreed that they have not witnessed the large numbers of migrants that were initially anticipated to strain U.S. border facilities and towns. Victor Trevino, the mayor of Laredo, Texas, stated to CBS News' "Face the Nation," "The amount of migrants we were expecting initially – the big flow – is not here yet."
However, Republicans in the U.S. House of Representatives, who currently hold the majority, cautioned that a surge of migrants could still be on the horizon. Representative Michael McCaul mentioned on ABC's "This Week" program, "I do think there are caravans going up. I think they still want to get in."
Despite concerns and criticisms, Mayorkas defended the Biden administration's policy against a lawsuit filed by the American Civil Liberties Union (ACLU), which claims that the restrictions violate U.S. laws and international agreements. Mayorkas stressed that the aim is not to ban asylum but rather to combat smugglers and ensure security.
With U.S. immigration policy facing challenges, holding facilities, hospitals, and towns have been left struggling as tens of thousands of migrants crossed rivers and climbed walls and embankments onto U.S. territory in the days leading up to the Title 42 expiration. Hospitals have reached or exceeded capacity, and an emergency declaration is in effect in some areas.
El Paso Mayor Oscar Leeser highlighted that the Red Cross, private organizations, and church groups are providing food and other assistance to migrants. However, he acknowledged that the immigration process is broken and that resources are needed.
Congress has made little progress in reaching a bipartisan agreement to address immigration. Shortly before the expiration of Title 42, House Republicans approved legislation that would resume border wall construction, expand federal law enforcement efforts, and require asylum