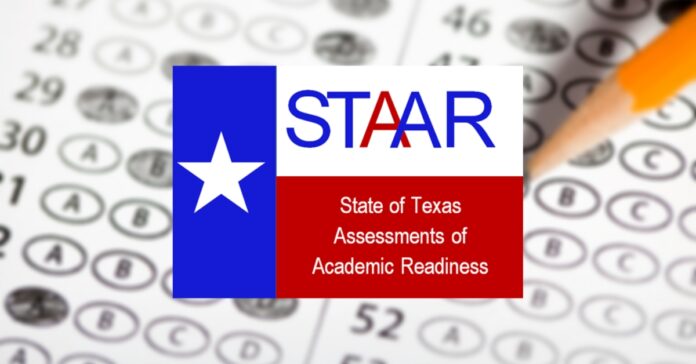 Like a tired parent pretending that a fork full of broccoli is an airplane to get a fussy toddler to eat, Texas Republicans tried a new tactic to push a school voucher bill through the House on Monday. The latest version of the bill would eliminate the STAAR test as an incentive to win more supporters.
House Public Education Committee chair Brad Buckley (R-Salado) acknowledged the politicking of combining the two issues near the end of the contentious hearing.
"I know the pushback is because of what it's linked to here today, but it's a reform bill," he said. "It's a conversation starter. Sometimes you need a kick to move this forward."
If passed as part of the school voucher bill (misnamed the Parents Bill of Rights), the annual State of Texas Assessments of Academic Readiness test would be discontinued and replaced with a new set of three benchmarks to be used throughout the year and designed by the Texas Education Agency. Both representatives and witnesses argued about whether this would actually reduce the well-known stress associated with students preparing for the make-or-break exam.
Under the bill, students who had passed high school but who had not been issued a diploma would be able to apply for their diploma. The bill would take effect in the 2027-2028 school year.
TEA Associate Commissioner Iris Tian was on hand to answer questions for more than an hour. She endorsed eliminating the test for multiple smaller benchmarks used in the 3-8 groups.
The was sharp commentary regarding the inclusion of a STAAR repeal in the controversial bill.
"Changes are important to our system, and I don't think they should be used as a bargaining chip for vouchers," said James Talarico (D-Austin).
HD Chambers, representing the Texas School Alliance, expressed annoyance that a hearing that was supposed to be about vouchers had turned into one on assessment testing.
"For those saying, 'Well, I can stomach [vouchers] if they're doing away with STAAR,' you're not doing away with STAAR," he said. "There is nothing that is going to do away with the exam and the way it's used."
Chambers was referring to federal requirements that state schools have some form of assessment exam to measure performance. There has been talk for years of replacing the test, with many feeling that it puts too much pressure on students and doesn't adequately represent a school's quality.
Chairman Buckley is certainly aware of the thirst for eliminating the test and is seeking to capitalize on that by tying it into school vouchers. The matter has been unable to find traction in the lower chamber despite the endorsement of the governor as rural Republicans are unwilling to risk their school funding by funneling taxpayer dollars into wealthy suburban and urban religious schools.
This is the second time that Texas Republicans have sought to sweeten the pot to get vouchers passed this year. Earlier, they offered small rural districts a stipend for each student that leaves the district for up to two years. It's unclear if these offers are winning over the needed votes to make vouchers a reality.