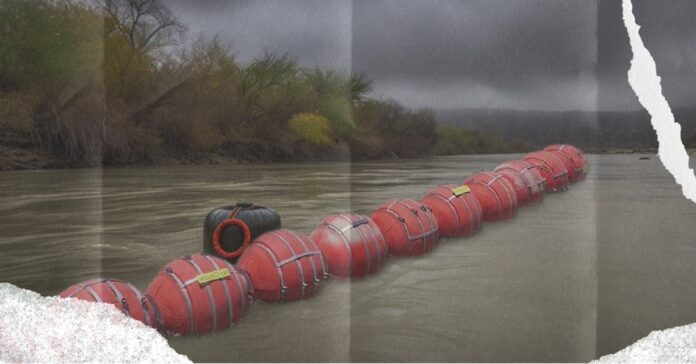 After an international group disclosed that the buoy barrier initiated by Gov. Greg Abbott was predominantly positioned on the Mexican side of the Rio Grande, Texan state officials got straight to work relocating the barrier.

They got to work using excavators to shift the 1,000-foot barrier, drawing legal attention from lawyers representing the federal government.

Legal representatives for the federal government argue that these recent "unauthorized construction activities," carried out by the state, emphasize the necessity of a judicial order to dismantle the barrier while the case progresses, as reported by The Houston Chronicle.

The pace of developments has escalated with a looming hearing scheduled for Tuesday morning in Austin, where a federal judge will weigh the possibility of issuing an emergency injunction. This injunction could potentially mandate Abbott to remove the barriers within a span of 10 days.

The U.S. Justice Department first took legal action on July 24, suing the state of Texas and Gov. Abbott for installing floating barriers in the Rio Grande River to stop migrants crossing from Mexico, alleging the barrier was installed without necessary authorization from the U.S. Army Corps of Engineers.

The lawsuit also alleges that the floating barrier obstructs navigation on the river and demands that the state remove the barrier.
Abbott defended his decision as the "commander-in-chief of our State's militia" and blamed the Biden administration's immigration policy for the conditions at the border.
"It has been under your watch that migrants have suffered an unprecedented crisis of inhumanity," Abbott said in the letter to Biden. "If you truly care about human life, you must begin enforcing federal immigration laws."
On Monday, in anticipation of this hearing, Abbott is poised to host a press conference near the buoy barrier in Eagle Pass. He will be joined by Republican governors from other states, such as Iowa and Oklahoma, as they collectively criticize President Joe Biden's administration for perceived inadequacies in securing the Texas border.Gov. Abbott and other Texas officials went out to say they were careful to keep the 1,000-foot barrier on Texas' side. However, the recent survey conducted by the binational agency overseeing the Rio Grande River unveiled that the majority of anti-migrant buoys set up by Texas are situated on the Mexican side of the border.
Nearly 80% of the buoys – about 787 feet – are found on the Mexican side of the border, as confirmed by the survey carried out by the International Boundary and Water Commission. This discrepancy has prompted the Justice Department to present these findings in federal court as part of their lawsuit with the aim of compelling Texas to dismantle the barrier.
With a court hearing scheduled for August 22nd, it remains to be seen how these legal disputes will unfold.