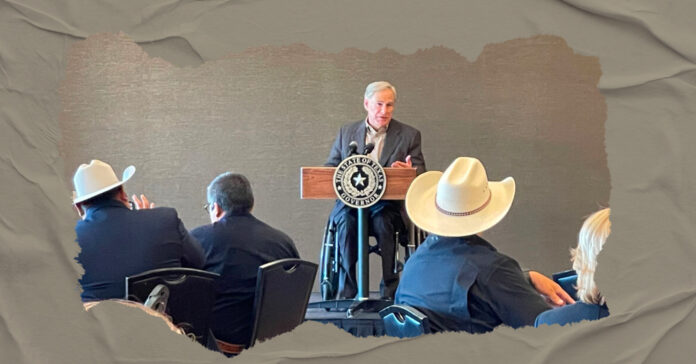 After months of saying the Texas Department of Public Safety (DPS) border traffic inspection operation that halted commercial vehicles in April was intended to capture shipments of fentanyl and migrants crossing illegally, Gov. Greg Abbott now says he ordered the DPS to perform the extensive inspections for general vehicle safety.
In a roundtable in El Paso last week, he downplayed the impact of his actions and the cost to the state economy. The week-long shutdown of transcontinental traffic is estimated to have cost the state economy $4.2 Billion, according to a Houston Chronicle report. "To be clear what DPS announced, the strategy for those inspections was, [was] not to look for drugs. Their purpose was to inspect vehicles," he said.
The Texas Tribune reported in April that over an eight-day period beginning that month troopers conducted more than 1,400 truck inspections. While not finding any evidence of smuggling, they did take 850 trucks off the road for various equipment violations, including under-inflated tires, broken turn signals and oil leaks.
The invasive stops did not result in seizures of either contraband or smuggled migrants. However, it did result in millions in spoiled produce further complicating the effects of a struggling supply chain, grocery prices and inflation, per a CNN report.
Not only did the operation negatively impact the Texas economy, it also impacted the US economy, as the Texas-Mexico border accounts for 65% of the total trade between the two countries. Abbott, who is running for a third term as governor, managed to anger truckers on both sides of the border, but accomplished little else.
So the question remains — why was it worth the billions in economic loss to the state to levy fines against truckers for minor traffic violations? In what has been called "a very expensive stunt" by his Democratic gubernatorial challenger Beto O'Rouke, Abbott appeared unfazed by the economic damage done and would not rule out future efforts.
Seeking a third term as governor, Abbott has repeated his refrain that he is undertaking such efforts to protect the border, blaming Democrats saying he would not hesitate to do it again if he deemed it necessary — to stop the importation of fentanyl — even though no fentanyl was found, and DPS was not searching for contraband.
The DPS border inspection efforts have been called redundant by US Customs and Border Patrol. (CBP) CBP routinely inspects commercial cargo coming from Mexico for evidence of anything illegal being smuggled into the US as soon as the trucks cross the international checkpoints.