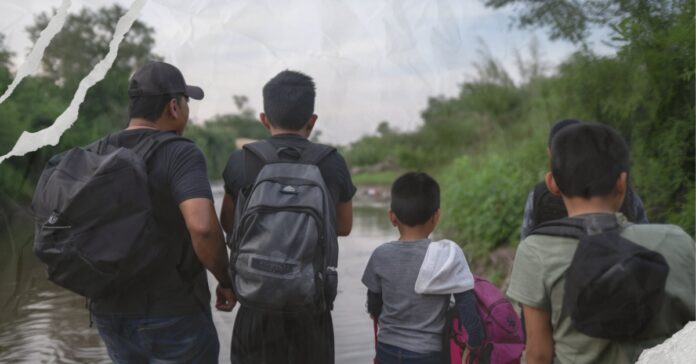 Gov. Greg Abbott's controversial border control measure, Operation Lone Star, has been under fire in recent weeks for separating families at the border and a recent string of drownings due to the barriers on the Rio Grande river near Eagle Pass to deter illegal crossings.
In recent weeks officials from the Texas Department of Public Safety have been breaking up families along the Rio Grande, despite the initial policy allowing migrant families to be together after state troopers arrested them along the border and were told to send them to federal authorities to make their asylum case.
According to an exclusive report by the Houston Chronicle, DPS officials have broken up at least two dozen families by separating the fathers from the rest of their families, on trespassing charges. According to the spouses and lawyers representing those immigrants, the other members of the family are transferred to Border Patrol agents.
Attorneys representing some of these cases told Hearst Newspapers, in several cases, fathers have not seen their families since they were detained and remain in custody.
The new policy mimics the Trump administration's "zero tolerance" policy when it came to illegal border crossings. However, one key difference is that children are not being separated from their families. Kids were stripped from both parents in 2018 by federal immigration officials. They were reclassified as unaccompanied and were sent alone to shelters without any system in place to reunite them with their parents.
It is "nothing short of state-sponsored family separation," said Kristin Etter, an attorney and special project director at Texas Rio Grande Legal Aid, told the Houston Chronicle.
Etter also told the Houston Chronicle that she knows of at least 26 families that have been split up since July 10.
Travis Considine, a spokesperson for DPS, on Tuesday, acknowledged that the agency arrested fathers traveling with their families, emphasizing that the children have never been separated from their mothers.
"There have been instances in which DPS has arrested male migrants on state charges who were with their family when the alleged crime occurred," Considine told the Houston Chronicle. "Children and their mothers were never separated, but instead turned over to the US Border Patrol together."
A 2021 policy required officials to release families with children under 18 to Border Patrol; fathers who are traveling with children over 18 should be only arrested, it said.
"The basic common denominators are: If there is a child who is part of a family. We will refer to BP," Joel A. Betancourt, a captain overseeing operations in South Texas, wrote in an August 2021 email, according to the Houston Chronicle, laying out the policy, a. "If the family consists of male adults (18 and over) we will arrest if they are trespassing."
DPS Director Steve McCraw, who has testified multiple times before the Senate Committee on Border Security as recently as June, the standard policy is to keep families together and refer them to Border Patrol.
"We don't want to mess with children, and frankly there's low value in that," McCraw said during a May hearing. "We think it's the best way to do it — just keep the family unit together and refer them to Border Patrol."
According to the Houston Chronicle report, all 26 arrests identified by Etter happened between July 10 and 14 in Eagle Pass, the border town of about 30,000 people. In recent weeks Abbott has focused his multibillion-dollar crackdown there.
Neither Abbott nor any other state official has publicly addressed separating families along the border. Although the governor has said that the efforts on the border are necessary to protect the state.
As a part of Abbott's strict border control measures, Operation Lone Star, in addition to miles of razor wire, the state installed floating marine barriers on the Rio Grande River near Eagle Pass last month to deter illegal crossings.
On Wednesday, two bodies were found in the Rio Grande near Eagle Pass, one of the bodies was stuck in a buoy barrier.
Texas was sued last week by the U.S. Department of Justice in an attempt to force the state to remove the buoys, which are in violation of laws regulating waterways, the federal government said.
Mexico has repeatedly asserted that the floating barrier may be in violation of 1944 and 1970 international treaties on boundaries and waters.