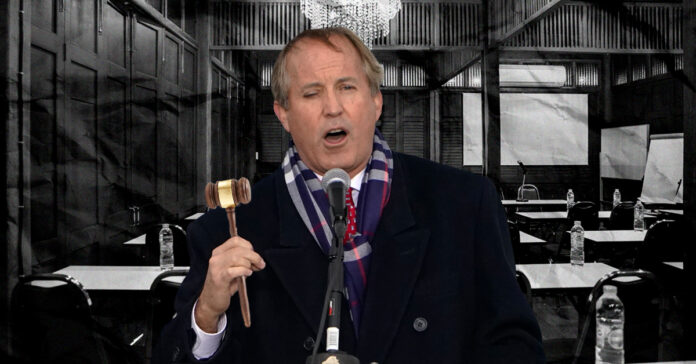 On Thursday, Judge Andrea Beall set the next hearing date regarding suspended Attorney General Ken Paxton's felony securities fraud trial for Oct. 6, delaying it until his impeachment trial concludes.
While Paxton did appear before the court for the hearing on Thursday, he did not speak. All parties involved in the impeachment trial have been put under a gag order by Lt. Gov. Dan Patrick.
Bell said that in October she will set a start date for the trial itself and address the issues raised by both counsels, the defense's need for a speedy trial and the prosecution's concern regarding their payment.
In 2015, a Collin County grand jury indicted Paxton on two counts of security fraud. A first-degree felony, with a punishment of up to 99 years in prison and a third-degree felony, on the count of failing to register with the state securities regulators, with a maximum of 10 years in prison.
The charges are linked to Paxton's efforts in 2011 to involve investors in the McKinney-based tech company, Severgy Inc., without disclosing that they were paying him to promote their stock.
Paxton has pleaded not guilty to all charges and dismissed them as political provocation from his rivals.
Kent Schaffer and Brian Wice, the special prosecutors on the case, said that they have not been paid for their work since 2016.
"The one thing everybody agrees on is that the commissioners in Collin County will have to write the check," Wice told Houston Public Media. "And make no mistake. One of the reasons for the eight-year delay is that they were incredibly clever and Machiavellian … about knowing the only way they could derail this prosecution, the only way they could stop Kent and I in our tracks, was to defund us."
Paxton was impeached by the House late May and was immediately suspended from his duties as the Attorney General. He currently faces 20 articles of impeachment and is accused of bribery, abuse of office and obstruction of justice. He denies any misconduct.
The trial is due to start on Sept. 5, 2023 at 9:00 a.m.
If Paxton is convicted in his impeachment trial, he would be more inclined to seek a deal in his securities fraud case, Wice indicated.
"If he rolls the dice (on the securities fraud case) and goes to trial and gets convicted, even if he gets probation, he will lose his ability to practice law," Wice told Houston Public Media.
Paxton's defense attorney, Dan Cogdell, took a more optimistic route regarding the case but did raise the likelihood of Paxton seeking a deal to avoid a conviction in the securities fraud charges, if he is permanently removed from office by the Senate.
"Logically, if Ken prevails (in the impeachment trial), we'll go forward," Cogdell told Houston Public Media. "If Ken loses, that's a kill shot to his political career, so it opens the door for resolution that's not open right now."
Paxton is under a federal investigation as well for alleged abuse of office, regarding the same issues that led to his impeachment.
Any Federal charges could be far more serious Wice said.
"I think if in fact the feds indict him," Wice told Houston Public Media, "on some level, we may become footnotes. If you're looking at substantial time in a federal penitentiary, where there's a conviction rate of 98% and 98% of all people who are charged plead guilty, I think that that's going to take center stage, and that would ultimately relegate (the securities fraud case) to a second act."