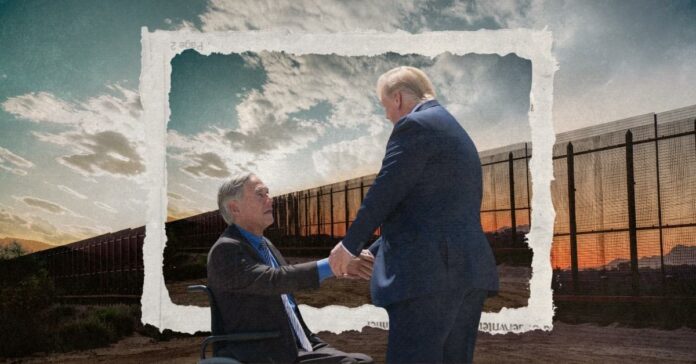 In a significant political move, Texas Governor Greg Abbott officially endorsed former President Donald Trump's potential return to the White House during a visit to the Texas-Mexico border. The endorsement came as the two leaders served meals to service members deployed for Operation Lone Star, a comprehensive border security mission spearheaded by Governor Abbott.
Addressing the crowd in Edinburg, Abbott stated, "We need Donald J. Trump back as our President of the United States of America," emphasizing Trump's commitment to securing the border and restoring law and order. Trump, in response, expressed gratitude, promising to make Abbott's job in Texas "much easier" by focusing on other issues.
Abbott's endorsement is particularly notable as he has not consistently aligned himself with Trump, unlike some other Texas officials. Despite occasional signs of tension between the two leaders, they have managed to strengthen their political ties during crucial moments, such as Trump's endorsement in Abbott's contested primary for reelection last year.
The endorsement occurs amid growing support for Trump in the 2024 presidential race among Republicans, with polls showing him leading over other contenders like Florida Governor Ron DeSantis and former UN Ambassador Nikki Haley. Abbott's support adds weight to Trump's position, given the governor's past strategic alignment with Trump during key political events.
However, the move faced criticism from Democrats, who reiterated concerns about the immigration strategy employed by Trump and Abbott. Julie Chávez Rodríguez, Biden's campaign manager, labeled Trump's policies as "extreme, inhumane, and fundamentally un-American."
As Trump's influence in the 2024 GOP nomination race continues to grow, Abbott's endorsement marks a significant development, showcasing the complex dynamics within the Republican party and the evolving relationships between key figures.
"We just want a Republican president," said Abbot.