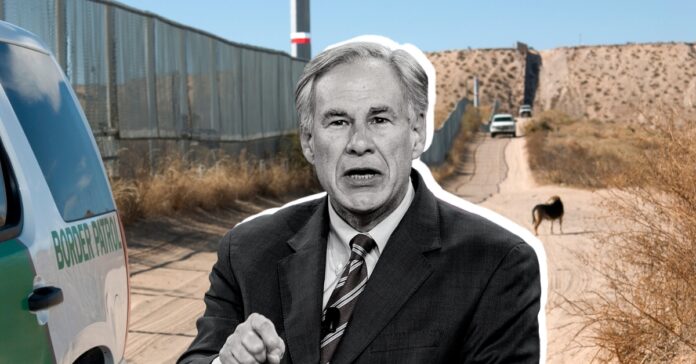 Citing reports that non-governmental organizations may have assisted migrants in illegally entering the country at the Texas border in El Paso, Gov. Greg Abbott asked for the state to investigate the groups in a letter to Attorney General Ken Paxton earlier this week.
He said the groups are suspected to be involved in aiding 'illegal border crossings,' but provided no details of any supporting evidence.
NGOs, nonprofits that work independently of governments to address social or political issues, are providing humanitarian relief to migrants who make the long arduous journey to the U.S.–Mexico border and may be forced to live in squalor while awaiting their asylum hearings.
Thousands of migrants have crossed into El Paso from Ciudad Juarez in recent weeks, which has overwhelmed shelters and forced some asylum seekers to sleep on the street, and earlier this week 1,500 people waded across low-water areas of the Rio Grande and into El Paso in just one day.
The growing flow of migrants seems to have prompted Abbott and Paxton to target the NGOs. But any such investigative efforts are sure to exacerbate the crisis and further strain the resources of the organizations performing relief efforts for the migrants once they are in Texas.
"There have been recent reports that non-governmental organizations (NGOs) may have assisted with illegal border crossings near El Paso." Abbott wrote. "We further understand NGOs may be engaged in unlawfully orchestrating other border crossings through activities on both sides of the border, including in sectors other than El Paso," he continued.
The letter also cites that once the Trump-era Title 42 comes to an end in a few days, the crossings are likely to rise, and they are already at record numbers. Title 42 is a federal policy on behalf of public health, issued at the start of the Covid-19 pandemic, and was used to turn away migrants at the border.
Last month, US District Judge Emmet Sullivan struck down the policy, saying that it was "arbitrary and capricious" and ordered the Biden admiration to stop enforcing it. The White House appealed the decision, but without court action, the policy will end on Dec. 21.
In addition, on Wednesday Paxton said in a statement that his office is investigating whether recipients of funds from the Texas Bar Foundation were used to "support the border invasion." Additionally, the statement added that three organizations were sent "requests to examine" materials and information, including American Gateways, the Equal Justice Center, and the Tahirih Justice Center.
Fernando Garcia, executive director of Border Network for Human Rights, an El Paso nonprofit organization that works with migrants on both sides of the border, was quick to condemn the governor.
"This is a very concerning abuse of power…abuse of authority, because he's trying to criminalize the work of human rights organizations," said Garcia. "The Border Network has always acted within the law, and this threat from Abbott is not going to stop us from informing and educating members of the immigrant community about their rights."
"We are not smugglers," Garcia added. "We are not criminal drug organizations. This only happens in the twisted minds of politicians."
Democratic Rep. Veronica Escobar, who is based in El Paso, issued a statement on Wednesday blasting Abbott, defending the work of the nonprofits that provide invaluable aid to migrants in need.
"Governor Abbott's decision to investigate NGOs that are providing humanitarian care for migrants is shameful and intended to intimidate and instill fear in non-profit and faith-based organizations that exemplify the values we should all aspire to," Escobar wrote.
"Most border NGOs that work tirelessly on the border help provide temporary shelter, food and hospitality to migrants, most of whom will be awaiting adjudication of their asylum claims with sponsors they have in different parts of the country. They have been doing this work for decades and deserve our praise, not persecution," she continued.
Then, in a statement Tuesday, the Texas Department of Public Safety said that it was again conducting "enhanced" safety inspections of vehicle traffic into Texas from Mexico, hoping the inspections "will help deter cartel smuggling activity along our southern border."
But in April, the last time Abbott ordered the border inspections, the Texas economy took a $4 billion hit due to shipping delays and bridge blockades, according to a new analysis reported by Bloomberg News.
Yet, the April operation by DPS officers found few drugs, weapons, or migrants, but has resulted in thousands of Latino residents of Texas being harassed continually by DPS, some being pulled over dozens of times.
The Department of Homeland Security has announced a six-pillar plan for the end of Title 42, which includes more resources for the border, increasing processing efficiency, imposing penalties for unlawful entry, bolstering nonprofit capacity, and working with international partners, according to a CNN report.