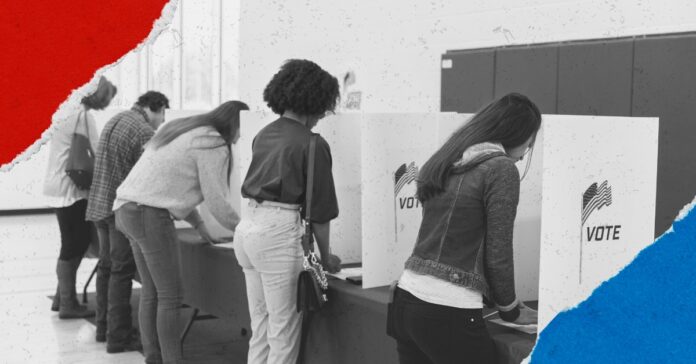 Despite no evidence of meaningful fraud for the last three election cycles, Texas Republicans have already filed more bills for the January legislative session that would continue their overhaul of state election laws with a new bill that would create an election police force.
It would be modeled on Florida's election monitoring force formed before the 2022 midterms.
NBC News reported that as of last Friday, GOP legislators had already prefiled 20 bills in the Texas House and Senate, all aimed at some form of election reform, even though they won a clean sweep of state-level offices in the November elections. The proposed bills fall into three categories:
Laws that would impose harsher penalties for voter infractions, raising it to a felony
Expand the state attorney general's authority to prosecute election and voting crimes
Create a new law enforcement unit dedicated exclusively to enforcing and prosecuting election and voting crimes
All the newly proposed bills "all kind of generally fit under the bucket of criminalizing voters and voting behavior, and just generally turn elections into crime scenes, where there is this presumption that there is some kind of widespread illegal conduct or activity, despite the fact that there is no evidence that's the case," said Liz Avore, a senior policy adviser at Voting Rights Lab, a nonpartisan, nonprofit organization that tracks voting and state election bills.
One such bill, Senate Bill 220, aims to create a unit of "election marshals" to police geographic regions determined by the Texas Department of Public Safety. They would investigate alleged criminal violations of Texas election laws, allowing for the filing of criminal charges as necessary.
Texas Republican lawmakers have already pre-filed more voting laws bills than all 49 other states combined, which has alarmed voting rights activists and Texas Democrats, as they failed last year to block the GOP-backed changes to existing election laws.
To counter the GOP attempt to revamp the entire election process in Texas, Democrats have proposed 42 bills, all of which aim to ease existing restrictions on voting and voter registration. The 2021 law included a requirement that has confused many voters and led to unusually high ballot rejection rates statewide. However, given that Republicans control both chambers at the state level, it's unlikely that any of the bills would become law.
To put that into perspective, the election law 62 bills proposed by Texas state legislators of both parties dwarf the efforts of other states. Those states have proposed a total of six bills in other states: Virginia (three), Missouri (two), and Nevada (one).
Houston-area state senator Paul Bettencourt, who wrote SB 220, told NBC News that the proposed legislation is specifically designed to address the issues that arose in Harris County during midterm voting.
"It's designed to stop election operators from not following the law," Bettencourt said. "The author's intent is to stop what's happening in Harris County."
Despite Bettencourt and other Republican complaints, the vast majority of the issues in Harris County were operational, rather than fraud.
The county has a population of nearly five million, making it the most populous county in Texas, and the third most populous county in the United States. The sheer size of the county may be part of the issue, given the use of the new machines in this year's elections.
The bills have drawn comparisons to the election police force created earlier this year in Florida by Republican Gov. Ron DeSantis, but some of the cases against individuals in that state have already been dropped, and legal experts have said it will be extremely difficult to obtain convictions, as most of the irregularities are accidental.
"They essentially weaponize state resources against its own citizens," said Jasleen Singh, a counsel in the Democracy Program at the nonpartisan Brennan Center for Justice, of the two bills. "It's evocative of what we saw in Florida.
"These kinds of measures are often justified by lawmakers as preventative of voter fraud, but with voter fraud being so rare, what they actually do, in chasing a problem that does not exist, is contribute to an atmosphere of fear, rather than trust, in our elections," Singh said.
The bill proposes a chief election marshal be appointed by and report directly to the Texas secretary of state, currently Republican state senator Jane Nelson.
The chief marshal would then appoint a team of other marshals, each having jurisdiction over the different geographic regions of the state. Said appointed marshals would have the authority to seize election records and voting equipment and would have broad subpoena powers to gain access to them.
This follows the last-minute effort by Attorney Gen. Ken Paxton's threat to Harris County in November. He had Forensic Audit Division Director Chad Ennis send a letter to Harris County that "inspectors will perform randomized checks on election records, including tapes and chain-of-custody, and will observe the handling and counting of ballots and electronic media."
As a foreshadowing, the letter said that Paxton would have his office "dispatch a task force … to immediately respond to any legal issues identified by the secretary of state, inspectors, poll watchers, or voters."
Proponents of the numerous bills say they are in response to a state court ruling from September that found the Texas attorney general does not, under current law, possess the authority to unilaterally prosecute election cases.
That Attorney General is Ken Paxton — another of a long list of election deniers who are on the midterm ballot in Texas and is most notable for having spoken to the "Stop the Steal" rally on Jan. 6, 2021.
"Under the law, a lot of that authority lies with the local D.A., but this bill allows the attorney general to bring accountability," said Texas Rep. Bryan Slaton, a Republican who wrote House Bill 125. The bill, he added, would "make sure that those [local] prosecutors are prosecuting."
Paxton is also currently under investigation by the FBI for alleged abuse of power claims made by eight of his top aides who reported him to federal law enforcement authorities. He is reported to have used his state position to help Nate Paul, an Austin-based real estate investor who donated $25,000 to his campaign in 2018.
The GOP's sudden obsession with election laws followed that 2020 loss by former president Donald Trump, though no significant irregularities were ever found, and nothing significant was proven in court.
Texas spent 22,000 hours looking for voter fraud, uncovering only 16 cases of address anomalies in registration forms, according to The Houston Chronicle.
Voting rights advocates opposed the 2021 voting restriction, as the bill's requirement mandated that absentee voters include either a driver's license number or the last four digits of their Social Security number on their mail-in ballot.
But if voters forgot which ID number they had previously given on their ballots, they either accidentally put the wrong number or left it blank. If a voter had listed their driver's license number when they registered to vote, but inadvertently put their Social Security number on the ballot, it was rejected.
Over ten thousand ballots were rejected for such reasons in the midterm elections this year.