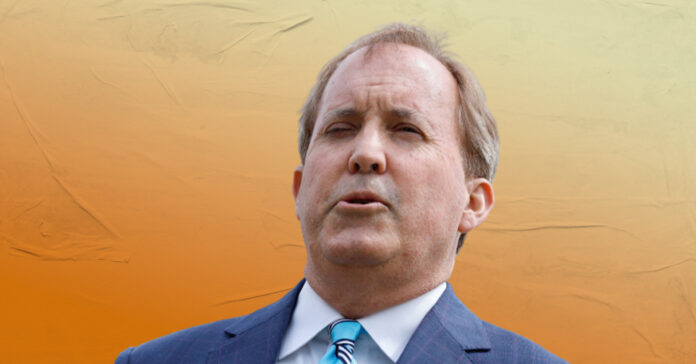 A recent Washington Post Op-Ed piece by James Hohmann called Texas Attorney General Ken Paxton "America's worst attorney general." And the columnist predicted he'll win his re-election bid despite the fact that he is scheduled to be deposed in his 2015 securities fraud case next month. 
In addition, the FBI is investigating him for alleged abuse of power claims made by eight of his top aides who reported him to federal law enforcement authorities for using his state position to help Nate Paul, an Austin-based real estate investor who donated $25,000 to Paxton in 2018.
They also claim he received free home remodeling services and was able to get a woman alleged to be his mistress a job in Paul's company. Five of the eight former aides were subsequently fired, which appears to be a violation of the Texas Whistleblower Act. The other three resigned.
The piece also confidently claims that he will likely be reelected, citing the fact that no Democrat has won a statewide office in Texas since 1994. However, Paxton will need to overcome voter impressions of his sordid legal history to secure a third term.
Multiple news outlets – local, state, and national – repeatedly cite one word to describe Paxton's AG tenure – "dysfunctional."
After his recent flight from a court-ordered subpoena server, his Democratic opponent in next month's election, Rochelle Garza, saw an immediate influx of campaign donations. She also posted that he "might be the most corrupt politician in America."
At a recent campaign event, Garza delivered her campaign battle cry: "I'm ready to beat criminally indicted Ken Paxton!" and she posted on Twitter that "Ken Paxton is running from the law…I'm running to replace him."
And the criticism of Paxton's office is not at all one-sided. In recent polling reported by the Dallas Morning News, just 34 percent of Texas voters believe Paxton has the integrity to serve in his current office, including 50 percent of likely Republican voters. Yet he still leads Garza by seven points at the time the poll was taken.
And AP reported that Republican District Attorney Dusty Boyd said of the attorney general's office, "It's absolutely broken. It's just broken. You don't do it this way," which took over the cases from Paxton's five-lawyer team. "I made the mistake of trusting them that they would come in and do a good job."
If Paxton were indeed re-elected, it would likely send a startling signal to the voters of Texas, and possibly the nation. He is continually embroiled in serious legal battles, and yet he is serving as the state's top law enforcement official.
In addition to his personal checkered past, he is a vociferous crusader against all things human rights oriented.
Under Paxton's failed leadership, prosecutors are resigning over a variety of serious claims. According to Associated Press (AP) reports, one quit in January after being pressured by superiors to withhold evidence in a murder trial. And if keeping with Paxton's far-right views regarding social issues and social justice, one attorney left in March citing growing hostility toward LGBTQ staffers.
And his running away from court papers pertaining to a suit attempting to clarify if nonprofit volunteers would be prosecuted by the state for aiding women in need of assistance in finding abortion services out of state.
He has filed a dozen lawsuits against the federal government regarding immigration and asylum seekers, using the issue to advantage in fundraising from MAGA donors, including the Republican Attorneys General Association.
AP says records show the division in his office over human trafficking cases had a job vacancy rate of 40%. For many reasons, human trafficking is a major concern for Texas, where more than 50 migrants died in the back of a trailer in June.
In the small Texas town of Gatesville, his "Operation Fallen Angel" failed miserably. Paxton's office botched a case against alleged traffickers targeting teenage girls, which led to the inexplicable release of six of the eight alleged perpetrators. They were involved in the scheme to entice minors to "exchange sexual contact for crystal methamphetamine."
He has also stated that he would support seeing gay sex be made illegal in the state, citing a 1973 Supreme Court case striking the then-Texas law forbidding sodomy, if the court revisited such cases now that it is packed with Trump and GOP justices, some of whom were ramrodded through congress under false pretext regarding social issues, such as the right to abortion services.
He is also another of a long list of election deniers who are on the midterm ballot in Texas, and Paxton is most notable for having spoken to the "Stop the Steal" rally on Jan. 6, 2021, shortly before the mob attempted to prevent the peaceful transition of power, a bedrock of American democracy.
He is one of 17 GOP state's attorneys general who filed challenges to the 2020 presidential election results, seeking to overturn a legitimate election result.
And this May, nearly two years after the 2020 election, Paxton and the head of his election integrity division invited their team to a screening of "2000 Mules," the debunked film that falsely claims the 2020 election was stolen.