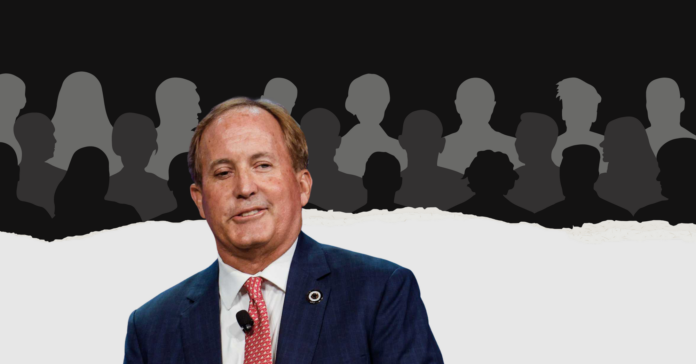 Despite his legal fallouts and conspiracies, like cheating on his wife, being investigated by the FBI, or fleeing from the law, Attorney General Ken Paxton, remains popular within the Republican Party.

Between July 1 and Sept. 29, he managed to raise $2.1 million, while his Democratic challenger, Rochelle Garza, fell short of him, raising only $1.6 million. Paxton also spent twice as much as Garza, $809,000 to her $475,000, and has more cash on hand, $4.9 million to her $1.5 million, according to their campaign finance reports.

Paxton's donors seem to be unfazed by the Attorney General's outright disregard for the law, which is no surprise when you realize some of the more generous donations come from businessmen who have had their own brush with the law.

Paxton's top donor, Montgomery Bennet, CEO of Ashford and Empower Texans donor, got in trouble in 2020 for securing tens of millions of taxpayer dollars in coronavirus disaster funds. Bennet's company was criticized for taking advantage of the Paycheck Protection Program which was intended to keep small enterprises afloat during the pandemic. Bennet gave Paxton $100,000.

Right up there with Bennet, is Holloway "Holly" Frost, founder and CEO of Texas Memory Systems. According to Harris County records, in 2009 Frost, settled with a former employee after being accused of sexually assaulting and harassing her repeatedly for years. To get more details on the sexual harassment and abuse lawsuit naming Frost, you can view the petition here.

Despite his questionable character, Holly has become one of the largest campaign donors for Texas policymakers. He gave Paxton $100,000.

Other top donors for Paxton include:

$50,000 from Javaid Anwar, Midland Energy CEO.
$50,000 from Kyle Stallings, West Texas owner of an oil-related business and far-right Empower Texans donor.

$50,000 from Charles "Dick" Saulsbury, West Texas owner of oil-related business and far-right Empower Texans donor.
$50,000 from Kyle Stallings, Stickland-led and Tim Dunn-Funded Defense Liberty Texas PAC

$25,000 from Glenn Story, co-founder, and CFO of Patriot Mobile
After Paxton attempted to flee from the law to avoid being subpoenaed, Garza saw an uptick in campaign contributions. In just two days, she raised an additional $100,000.

Although it wasn't enough to catch up to Paxton, the wave of contributions was an indication of enthusiasm in what is the most competitive race in recent memory, as statewide polling shows the current margin to be in single digits.

Garza's main contributions came from:

$72,072 from the Texas Organizing Project PAC which organizes Black and Latino communities in Dallas, Harris, and Bexar counties.

$50,000 from the Border Health PAC, which works to promote the issues of the medical profession along Texas' Section of the U.S. – Mexico border.

25,000 from Lynne Dobson, a Texas philanthropist, business owner, and photojournalist.
The Border Health PAC also handed Paxton a hefty sum of $50,000. The fact that the longtime RGV based PAC is now hedging their bets on who wins by giving to both candidates is a sign that people are split in the region.

Garza might still be an underdog, but maybe Paxton's latest fallouts will be enough to give her an edge in the race.