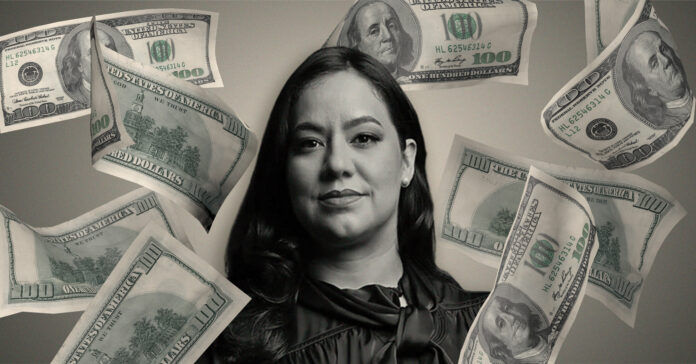 Republican Ken Paxton's re-election bid to remain Texas attorney general took a substantial hit last week, as his Democratic challenger Rochelle Garza raised $100,000 of additional campaign contributions in just two days after he fled his home last week to avoid being served a subpoena.
Rather than comply with the law, Paxton, the state's top law enforcement official, fled the scene in a truck driven by his wife.
According to court records, the process server identified himself at Paxton's home and waited outside the house to hand him the subpoena, which called on him to testify in a lawsuit filed by an amalgam of groups called abortion funds. The funds help Texans pay for abortions in states where the procedure is still legal. They are suing him, and local district and county attorneys, to prevent them from prosecuting non-profit group members.
Paxton then tried to call his fleeing the scene a "made-up controversy," and also claimed the server, Ernesto Martin Herrera, seemed "suspicious and erratic" and did not make clear what his intentions were.
But Herrera, in an affidavit said the Republican lawmaker avoided him for well over an hour after initially coming to the door, then he saw Paxton sneak out and run toward the truck before his wife Angela Paxton drove them both away.
Emails included in court documents show that the abortion funds' lawyers had tried to serve Paxton for days elsewhere, and only resorted to serving him at home after exhausting all other options, including attempting to gain cooperation from the attorney general's lawyers.
The attorney general's race is expected to be one of the most competitive in recent memory, as statewide polling shows the current margin to be in single digits.
In her bid to defeat the incumbent, Garza, a 37-year-old Latina civil rights attorney from Brownsville appears to be the Democrat's best chance to win its first statewide office since 1994. That year, Bob Bullock, Dan Morales, John Sharp, and Garry Mauro were re-elected as lieutenant governor, attorney general, comptroller, and land commissioner, respectively.
After the story of Paxton's flight gained media attention, Garza saw an immediate influx of new campaign donations, and she posted on Twitter that "Ken Paxton is running from the law…I'm running to replace him."
She also posted that he "might be the most corrupt politician in America," citing his recent legal troubles. At a recent campaign event, Garza delivered her campaign battle cry: "I'm ready to beat criminally indicted Ken Paxton!"
Paxton will need to overcome voter impressions of his sorted legal history to secure a third term. He has been under indictment on felony securities fraud charges since 2015, and he is also the subject of an FBI investigation that accuses him of accepting bribes in late 2020.
He is also accused of abusing the power of his office to help a friend and campaign donor. Surprisingly, these complaints came from some of his top aides.
The Texas Commission on Profession Ethics (PEC) also sued Paxton, accusing him of "making dishonest statements" related to the lawsuit he filed in the U.S. Supreme Court, attempting to overturn the 2020 presidential election won by Joe Biden.
The PEC is a committee of nine members of the State Bar of Texas appointed by the Texas Supreme Court to issue ethics opinions in response to ethics-related questions.