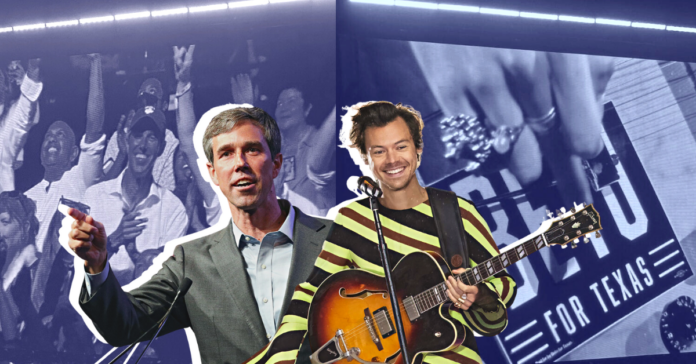 On Sunday in Austin, Harry Styles showed his support for Democratic Candidate Beto O'Rourke for Texas governor, just a month before the elections.

The British pop superstar appeared at the show with a "Beto for Texas" sticker on his guitar. At one point in the concert, the camera zoomed in on the sticker as Harry dramatically gestured to it, and then the cameras switched to reveal O'Rourke smiling in the pit and flashing a peace sign, as reported by HuffPost.

Sunday was not the first time Styles has gotten political. On September 26, in another concert in Austin, he raised his voice on several political issues that are currently at the center of public debate in Texas.

Just four months after the Robb Elementary School shooting in Uvalde, Styles decided to give a message before starting the show. The phrase "Together we can end gun violence" appeared on all screens at the Moody Center, along with the logo of Everytown, which is a movement of parents, students, survivors, educators, gun owners, and concerned citizens fighting to end gun violence and build safer communities.

After the mass shooting, the musician partnered with Everytown for Gun Safety for his Love on Tour – promising donations of over $1 million in proceeds to the nonprofit.

Styles also voiced his support for reproductive rights in response to Texas' near-total abortion ban.

"No one can tell you what to do with your own body," he told fans. "It is yours."

Styles also showcased information on how to get registered to vote. Texans are just five weeks away from voting for leaders who will shape the laws in the state, election day is set for November 8th.