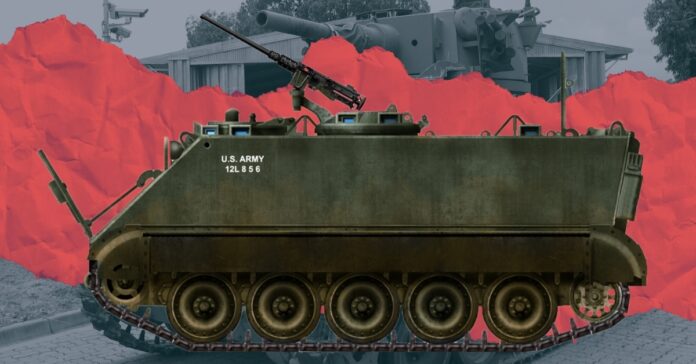 Just days after reelection, Gov. Greg Abbott announced his order to have the National Guard deploy Vietnam Era M113 armored vehicles into action in his taxpayer-financed Operation Lone Star on the Texas-Mexico border.
Abbott has described the record number of migrants crossing the U.S.-Mexico border as an invasion, citing the word "invasion" in letters to state county judges and President Joe Biden, echoing the increasingly alarming language Republicans have used recently.
In a memo using the subject line "Defend Texas Against Invasion," he urged the Department of Public Safety and the National Guard to step up their border efforts. And on social media, he declared that he "invoked the Invasion Clauses of the U.S. & Texas Constitutions" to justify his border efforts.
Abbott is seemingly oblivious to the fact that the El Paso gunman killed 23 people after using the word in his manifesto before driving to a largely Latino neighborhood after being radicalized by the word being repeated online by the GOP and far-right extremists.
His Operation Lone Star efforts have included the placement of large metal shipping containers, DPS, and military vehicles such as the M113, along the Rio Grande to deter migrant crossings, using state funds and donations to build a makeshift barrier.
In addition, Abbott awarded contracts to two companies in September to erect barriers along the border between Del Rio and the Rio Grande Valley.
In 1962 the U.S. supplied the South Vietnamese Army with heavy weaponry such as the M113 to be used in combat. Eventually, the M113 was the most widely used armored vehicle of the U.S. Army in the Vietnam War. It was especially effective in breaking through heavy jungle thickets to attack and overrun enemy positions.
It was known as an "ACAV" — or armored cavalry assault vehicle, and the U.S. recently sent 200 of the vehicles to Ukraine to help fight against invading Russians.
Texas, nor any other state, has ever activated so many National Guard Troops under state authority for such a mission. Or so hastily. Thus, Texas Guard troops have complained about poor living conditions and inconsistent guidance from leadership since the operation saw massive expansion last fall, presumably as Abbott saw his reelection was imminent.
And the nature and number of the controversial "trespassing" arrests as part of Operation Lone Star has spawned a Department of Justice civil rights probe.