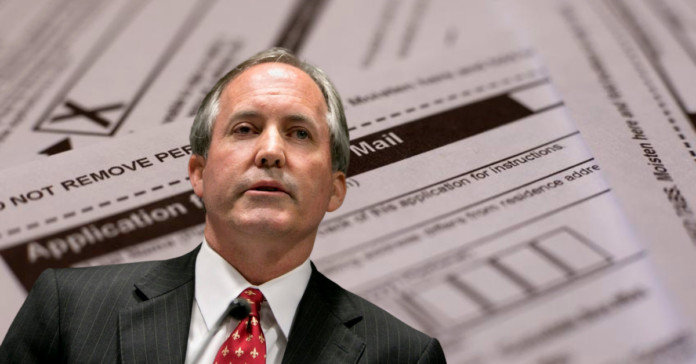 Late this afternoon, the Texas Supreme Court ruled that Harris County should include the roughly 2,100 ballots cast during an extra hour of Election Day voting when county officials certify the midterm results.
But the court also ordered Harris County to quickly determine whether those late-cast ballots would affect the outcome of any races amid audits and ongoing investigations.
Texas Attorney General Ken Paxton was attempting an 11th-hour intervention to have 2,000 provisional ballots cast on November 8 tossed out before the Harris County Commissioners Court meeting today to certify the election.
County officials were fighting Paxton's attempt to have thousands of midterm ballots as election results were to be certified today.
According to a Texas Tribune interview, Harris County Attorney Christian D. Menefee said that about 2,100 provisional ballots cast after 7 p.m. Election Day should still be included in the final count.
A district court ordered Harris County to keep its polls open one hour late on Election Day, but Paxton is asking the state Supreme Court to disallow any ballots cast after the standard 7 p.m. deadline.
As a result of the court order, those who got in line after 7 p.m. were still allowed to vote on Election Day but had to cast a provisional ballot, which is allowed by state law. Texans can cast a provisional ballot if they vote during extended hours due to a court order if the vote can later be verified as legitimate.
Yet, late yesterday, Paxton ordered the state Supreme Court to disregard the lower court ruling that allowed some polling stations affected by operational difficulties an extra one-hour period on election day to serve voters.
Paxton, who has been called "America's Worst Attorney General," is a well-known election denier, filing several suits in multiple states in attempts to overturn the 2020 loss by former president Trump. So his 2022 attempt to interfere with the counting of legitimately cast votes seems dubious at best.
In the filing Monday, Paxton acknowledged the issues at the polling sites but argued that even if some locations were not opened by the stated time, it did not justify extending the time locations remained open. "A trial court's last-minute intervention only made matters worse," he wrote.
The real reason for his filing? The ballots in question have the potential to impact one local race in Harris County, the 180th criminal state District Court Judge position.
Last Friday, the seat flipped in favor of Democratic incumbent DaSean Jones as the county continued its counting of nearly 1,000 more mail-in ballots and more than 4,000 provisional ballots, Jones took a 449-vote lead over Republican Tami Pierce. Pierce had led by more than 1,200 votes the morning after the election.
Paxton's efforts represent an attempt to reverse the outcome, according to Harris County Democrats. "This is a calculated move by Paxton to change the election results because a race flipped in favor of Democrats during the final count," Harris County Democratic Party Chair Odus Evbagharu said in a statement.
In a replay of last Tuesday's meeting, Harris County GOP is supporting Paxton's move, tweeting encouragement to followers to go to the Harris County Commissioners' court on Tuesday to "make your voice heard by speaking on this botched election run by the failed Elections Administrator."
To no surprise, a parade of various citizens either spoke virtually or in person from a sequestered podium during the 2 p.m. meeting, espousing conspiracy theories and veiled insults based on race and gender bias, among other comments and complaints about the county's administration of the election.
Without anything more persuasive than Gov. Greg Abbott and Paxton's investigations, they urged the commissioners to refuse to vote for certification of the election.
Harris County Elections Administrator Clifford Tatum was the target of harassment by GOP voters in attendance at that meeting, despite his responding that the county is "committed to transparency" and is already participating in the state's election audit process.
The genesis of the controversy was the delayed openings of roughly a dozen polling places on election day, and that led a state district judge to allow an extra hour of voting time at those sites in response to a last-minute lawsuit filed by progressive advocates.
A last-minute lawsuit was filed by the progressive advocacy group, the Texas Organizing Project, to keep polls open for an additional hour. The suit stated it felt compelled to take legal action because election operation disruption earlier that day had caused voter disenfranchisement, especially in communities of color across Harris County.
The Texas Civil Rights Project argued the case on behalf of the group. Hani Mirza, voting rights program director at the Texas Civil Rights Project said in a statement "We went to court because of these closures and errors."
Harris County District Judge Dawn Rogers ruled the effort was likely to prevail, and that the government had infringed upon voters' rights, and thus she approved the additional time.
Harris County elections have long been known for slow reporting of election results, regardless of party control. With a larger population than half of the states in the U.S., the county usually has the most votes to process.
And given the geographical size of the county, which is nearly 2,000 square miles, the transportation of equipment and set-up, tear down and collection of results is daunting, to say the least.
Last Tuesday, County Judge Lina Hidalgo said it was "important for mistakes to be identified and addressed, for weaknesses to be identified and addressed." But said she was against what she described as the GOP state government's decision to "single out" Harris County "for the kind of harassment and political stunt that we're seeing."