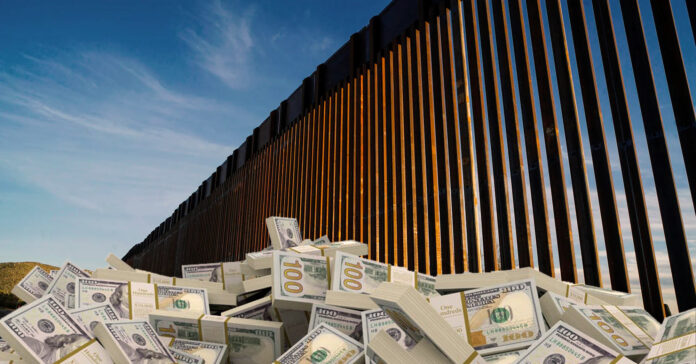 "Operation Lone Star" displaced thousands of National Guard members to the Texas border under dismal working conditions for a mission they argued had no purpose. Abbott could not even pay them on time.
The sudden influx of arrestees paralyzed justice systems around the border, bringing about a massive backlog of immigrants to process. The Texas Division of Emergency Management spent $45 million on non-competitive bids to mend this lack of logistical preparedness. Around half of these funds went into the building and staffing a tent booking facility in Del Rio, 150 miles west of San Antonio. The facility processes arrested migrants en masse via digital hearings before a magistrate judge before being sent off to one of two state-run detention facilities.
In January, state officials offered a new bid to build another facility east of Laredo to Gothams LLC, which sold the state $400 million of questionable covid test kits during the initial pandemic.
A TDEM purchase order for the facility indicates an expected cost of $43.2 million, covering construction costs and staffing expenses for one year, almost double the cost of the original facility in Del Rio. Gothams finished and opened the facility in under a month.
However, competitor Global Justice Solutions offered to build the facility at an extreme discount: $5.2 million, according to a consultant from the company.
When government agencies intend to purchase goods or services, state law typically requires them to solicit bids and award the contract to the "objectively" best offer. However, Abbott bypassed the requirement by declaring a disaster along Texas' southern border. The intent is to shorten bureaucratic processes at the taxpayer's expense.
"He's just abusing emergency powers at this point," said state Rep. Mary Gonzalez, D-Clint, who represents a border district and is vice-chair of the House Appropriations Committee. "When we're spending this amount of taxpayer dollars, it's important for us to honor our constituents with transparency and accountability."
Abbott has spent over $88 million on no-bid contracts for his border campaign.
DeWight Dopslauf, the purchasing agent for Harris County, said he rarely skips the bidding process for eligible contracts because they create a competitive market for potential vendors.
"You're going to get the best price for your quantity, for the services you're needing, because you're not just going out to anybody who's available to provide a service for you. There's multiple competitors," Dopslauf said. "A lot of times on the emergency declaration, the price won't be as effective as it would be when you're going through a competitive bid process."
Dopslauf said his team still uses competitive bidding during disaster declarations.