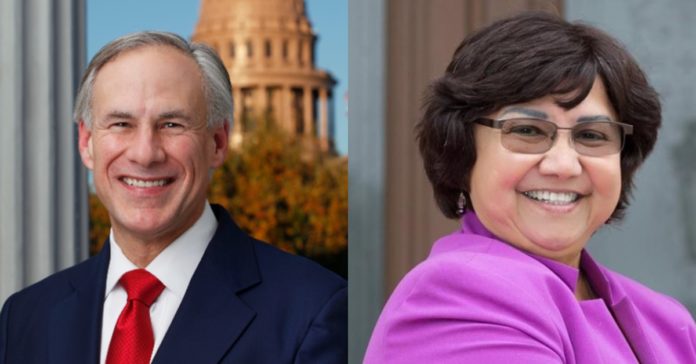 Texas Governor Greg Abbott has raised nearly 50 times more than his opponent Democrat Lupe Valdez in the state's gubernatorial race, according to the latest campaign filings with the Texas Ethics Commission.
Abbott raised $5.7 million and spent $7.3 million from July 1 to September 27, filings show. He has $26.7 million in cash on hand and no outstanding loans. Valdez raised $679,984 and spent $604,359 in that same time period. She has $302,670 cash on hand and $29,500 in outstanding loans.
Abbott's biggest contribution was $250,000 from Hushang Ansary, followed by $168,416.94 from the Republican Party of Texas. Abbott also received $100,000 from the Texas Health Care Association, $75,000 from the Texas Association of Realtors, $50,000 from Texans for Lawsuit Reform and another $50,000 the Texas Apartment Association. The governor has received numerous contributions from individuals ranging from $1 to $100,000.
Valdez's biggest contribution was $20,000 from Austin Ligon. From political action committees (PACs), Valdez received $10,000 contributions from the United Food and Commercial Workers International and Texas Democratic Women, respectively. Other PACs contributing to her campaign include $2,273.59 from the Denton County Democratic Party Sustaining Membership, $4,000 from the Tarrant County Democratic Women's Club and $2,000 from North Dallas Democratic Women.
Abbott has been pushing his his bid for re-election primarily via television and digital advertising, spending $3.43 million in advertising and social media. Other major expenditures including thousands for airlines for out of state travel and for campaign car rentals. Abbott's expenditures show his campaign has donated hundreds, sometimes thousands, to numerous Republican groups across the state including the Republican Party of Texas, Dallas County Young Republicans, Rusk County Republican Women, among others.
Valdez spent more than $128,000 on wages and $140,180 on advertising. Other major expenditures for Valdez include more than $250,000 for office overhead and rentals, and thousands of dollars for hotel rooms, gas and other travel expenses.
Reform Austin will continue to follow donations and special interest cash throughout the election and how money influences votes and actions.