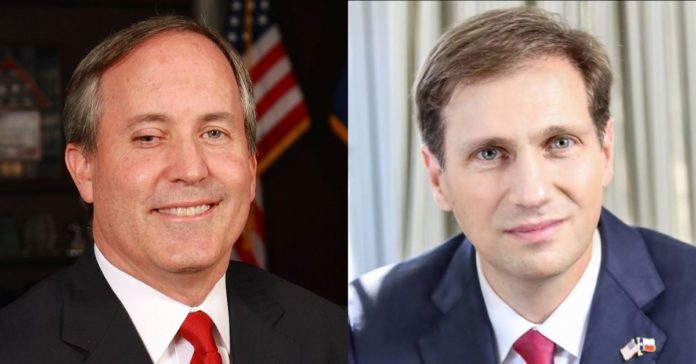 Democratic challenger Justin Nelson has raised twice as much as Republican incumbent Kenneth Paxton in the race for Texas attorney general from July to October, according to recent campaign finance filings with the Texas Ethics Commission.
Nelson raised $1,126,938.18 and had $489,375.94 in total expenditures. He has $1,745,318.84 in cash on hand and $500,000 in outstanding loans.
Paxton, who's served as attorney general of Texas since January 2015, raised $487,794.75 and had $3,215,952.75 in total expenditures. He has $4,341,968.36 in cash on hand and no outstanding loans.
Nelson has received thousands of dollars from PACs including $10,000 from Teamsters Local Union #988 Drive Political Fund, $5,000 from Teamsters 577 D.R.I.V.E Fund, $2,500 from the Texas League of Conservation Voters and $2,500 from the Texas State Teachers Association. He's also received $10,000 from Stephen Susman, $10,000 from Lisa Baron and $5,000 from Harry Susman.
Paxton has received $10,000 individual contributions from multiple PACs, including Koch Industries, Better Pain Solutions, LLC, Beer Alliance of Texas PAC, Texas Automobile Dealers Association,Texans for Honesty and other PACs. His biggest individual contribution was $10,000 from Kirk Wilson.
Nelson spent more than $54,000 in advertising and $66,775.29 in salaries and wages. Nelson's biggest expenditure was $224,580.35 for consulting expenses.
Paxton spent most of his campaign contributions on advertising, using $6.05 million on TV commercials, campaign video production and campaign push cards. He also $55,000 on consulting and more than $1,000 for social media services.
Reform Austin is following political contributions throughout the election, and will report how special interest money influences politicians during the upcoming legislative session.