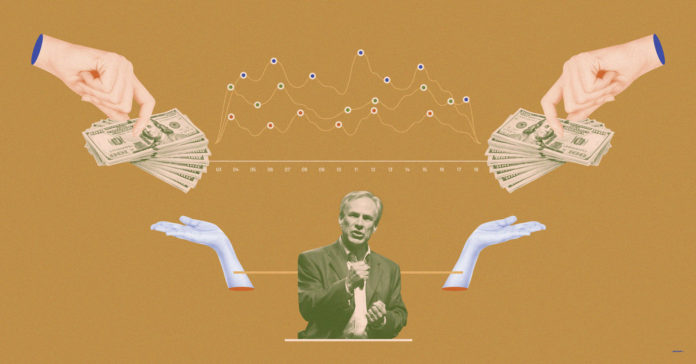 They aren't up for election this year, but that didn't stop Texas' three highest elected officeholders from raking in campaign donations during the last six months.
Gov. Greg Abbott raised $7.6 million dollars between Jan. 1 and June 30. He spent just under $3 million, leaving him with a whopping $37.7 million in cash on hand. He also reported numerous in-kind contributions, including the use of a private jet to shuttle him and others to Washington D.C. for the widely publicized meeting with President Donald Trump in early May.
The plane was provided by Bobby Cox. Cox served on Abbott's Open Texas Advisory Committee. He owns restaurants and has investments in real estate, an advertising agency, an aircraft company, cattle ranching, and quarter horses. In addition to the in-kind use of the plane, Cox also gave Abbott a $100,000 donation.
Another member of the Open Texas Task Force, Astros Owner Drayton McClane, was one of eight donors who made a $250,000 donation to the governor.
Mount Vernon Investments Executive Kenny Troutt was another big-dollar donor, giving $200,000 to Abbott. Troutt did not serve on the task force, but five others who gave to Abbott did. They include CARCON President Arcila Acosta, Southwest Bancshares President J. Bruce Bugg Jr., Cantu Construction President Alonzo Cantu, Bill Miller BBQ Restaurant owner Balous Miller and BancAffiliated Chair Sam Susser. Acosta donated $100,000. Bugg and Cantu gave $25,000. Susser gave $50,000. Miller gave $5,500.
Although not listed on the latest report, as Reform Austin reported in April, several other members of the task force are previous contributors to the governor's campaign fund. 
Lt. Gov. Dan Patrick reported raising $2,6 million on his July 15 report to the Texas Ethics Commission. He maintains a campaign war chest of more than $15.4 million,which he claims is more money than any previous lieutenant governor in Texas history.
Attorney General Ken Paxton's big donors include James Pitcock and Robert Lanham of Williams Brothers Construction, who gave $200,000 and $100,000, respectively.
McClane also found his way onto Patrick's list with his $150,000 donation as did Troutt with a $100,000 check. Patrick had two other donors who gave $100,000 and six contributors at the $50,000 level.
Texas Attorney General Ken Paxton has more than $5.4 million remaining in his campaign account. He raised about $1.2 million of that in the last six months.
Paxton's two largest donors were Douglas Scharbauer and Kenny Troutt, who gave $100,000 each. Scharbauer is an oil and gas consultant Midland. Troutt is a Dallas billionaire who owns a thoroughbred horse farm in Kentucky.
Paxton also has three $50,000 donations from Buc-ee's owner Donald Wasek, Cross Creek Ranch owner Michael Porter and the Boarder Health Political Action Committee, which works to promote issues of the medical profession along the border.