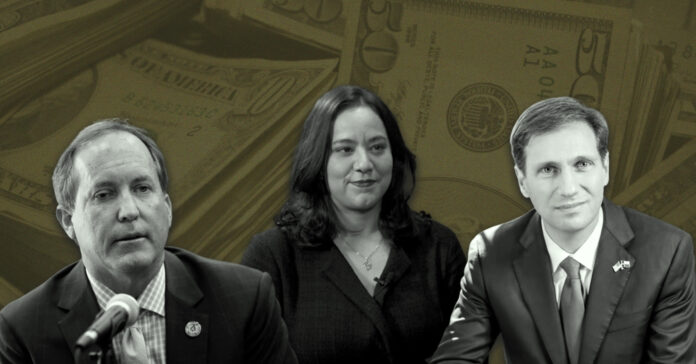 When comparing the 2022 statewide races to 2018's, we see a clear uptick in fundraising from most statewide races. What has changed and what has stayed the same?

Texas Attorney General Race

Texas Attorney General Ken Paxton has never been a perfect candidate: he has a seven-year-old securities fraud charge indictment and is under investigation by the FBI after several former aides claimed he abused his office by helping a wealthy donor.
Back in 2018 Paxton's Democratic Challenger Justin Nelson, a prominent Austin attorney, was successful in getting something most other Democratic statewide candidates ached for the GOP's attention. This wasn't enough, since Paxton won, but Nelson came close to making history, losing by less than 3 percentage points – 50.6% to 47%.

Nelson made Paxton's legal troubles the basis of his campaign and the main focus of much of his advertising. Posting billboards around the state featuring Paxton's mugshot, commissioning a rolling billboard he calls the "Mugshot Mobile" and even sending campaign staffers dressed as Paxton in prisoner garb to frolic on the Capitol grounds in a Halloween stunt, as reported by The Texas Tribune.

Fast-forward to 2022, and not much has changed. Current Democratic challenger for Attorney General, Rochelle Garza is also hitting Paxton hard on his outright disregard for the law. Her standard punchline is: "I'm ready to beat criminally indicted Ken Paxton."

In 2018, the race for attorney general showed signs of competition that was absent in just about every other statewide contest. In 2022, the polls show it continues to be the tightest of all statewide races. Garza is seen as the Democrat's only chance of winning a statewide office in Texas.

Paxton's legal fallouts have made him the most vulnerable Republican in Texas' statewide races, nevertheless, he has learned from his past campaigns and is taking no chances this year.

Money Makes A Difference

In 2018, Paxton admitted the race could be close with Nelson, due to the considerable financial support Nelson had received from legal colleagues and the Democrat's ability to self-fund.

"Cruz's race could be close. I think mine could be close," Paxton told Lubbock radio host Chad Hasty.

In 2018, Nelson raised $3,410,440, spent $6,543,899 and had $16,345 cash-on-hand. Meanwhile, Paxton raised $8,650,635, spent $12,889,406 and maintained $2,905,733 cash-on-hand, according to  Transparency U.S.A.

Most of Nelson's expenses went significantly to air TV ads informing voters all over the state that their attorney general is under indictment.

This year Paxton has raised his fundraising skills, leaving nothing to chance, as Garza attacks him on all fronts. So far, he has raised $12,614,796, spent $15,701,394, and has $2,905,733 cash on hand. Garza, unlike Nelson, is not a big fundraiser or spender. She has raised $3,773,340, spent $3,398,022 and has $285,050 cash-on-hand.

Comparison of Paxton's campaign finance in the 2018 and 2022 midterm elections.
Garza remains an underdog, with her low name recognition and fundraising disadvantage. But when it comes to polling, Garza is within single digits of Paxton, why is that?

According to Cal Jillson, a political scientist at Southern Methodist University: "Garza is clearly competitive in this race, but she's competitive based on Paxton's weaknesses because she's not well known."

Money has a reputation for winning races, but, could Paxton's constant encounters with the law be enough to give Garza an edge in the race?

No Democrat has won the state attorney general race since 1994.