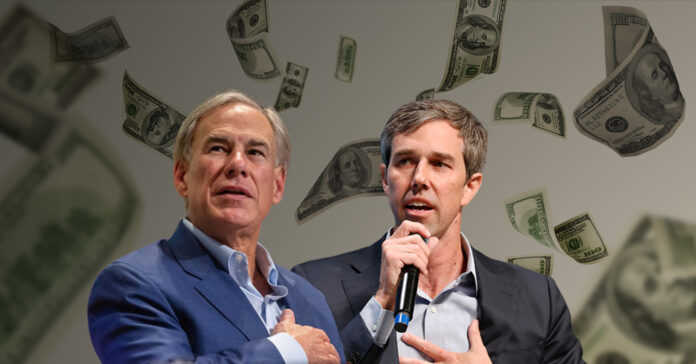 Texas' third straight fundraising period is officially over, thus making this year's gubernatorial race the most expensive in the state's history. This is also the first time Gov. Greg Abbott has reported having less cash than whoever is running against him.
For the third straight filing period, Democratic candidate Beto O'Rourke outraised Abbott, himself a prolific fundraiser. O'Rourke brought in $10.5 million to the incumbent Governor's $8.8 million in the final month of the campaign.
O'Rourke outspent Abbott, $24.4 million to $20.8 million, in previous periods Abbott had won the big-spender mention. That being said, with only one week left before election day, both candidates have pretty much emptied their war chest, with O'Rourke having only $4.3 million left to spend and Abbott $3.8 million.
What are Abbott and O'Rourke Spending Their Money On?

The candidates invested a big chunk of their fortune on ads, according to the Dallas Morning News, Abbott's campaign planned on spending at least $9.3 million on ads, and O'Rourke planned on spending at least $10 million on fall TV ads, according to the Texas Tribune.
Who Were The Biggest Donors?

Among Abbott's biggest donors we have Dallas Cowboys owner Jerry Jones, Plano investment adviser Ken Fisher, and Midland oil mogul Javaid Anwar, according to the Texas Tribune. Each of them contributed to the campaign with half a million dollars. Beto's biggest donor, Austin doctor Carolyn Oliver, contributed half that amount. His second biggest contribution was made by the Texas chapter of the American Federation of Teachers, which donated $100,000.