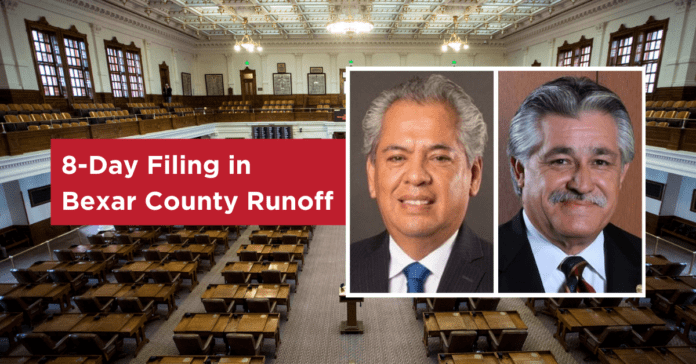 (From left to right: Fred Rangel and Ray Lopez)
San Antonio Democrat Ray Lopez has raised more than $70,000 in his bid to succeed former state Rep. Justin Rodriguez's (D – San Antonio) seat in the Texas House.
With Election Day one week away, the Texas Ethics Commission recently released eight-day campaign finance filings, the last required report before the March 12th election.
As of the filing, Lopez raised $71,819 and spent $91,818 – maintaining $14,588 cash on hand with no outstanding loans. His Republican opponent, Fred Rangel, has $13,145 in receipts, $18,966 in expenditures, $5,592 cash on hand, and $5,608 in outstanding loans.
A March 12th runoff election was called after no single candidate in a crowded field of eight contenders received more than a 50% majority vote needed to win the election.
As of Monday, March 4th, only 845 of the district's 101,057 registered voters cast a ballot in the Runoff Election. The race is expected to prompt a low voter turnout.
More information on both candidates can be found on their campaign websites:
Fred Rangel
Ray Lopez
Early voting for the Runoff Election runs now through Friday, March 8th. For a list of Early Voting polling hours and locations, click here. Election Day is Tuesday, March 12th.
Reform Austin will continue to follow this Special Election Runoff Election and report the results.