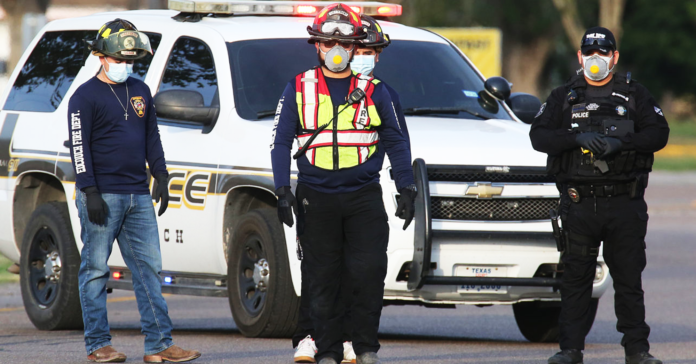 In just one month, hospitals have turned into what feels like actual battlefields. Hundreds of medical professionals across the state are fighting the coronavirus as the situation in Texas has rapidly progressed. Outside of hospitals, a whole other group of people also is risking infection to keep the rest of us safe.
Police and fire departments around the state as well as Texas Department of Public Safety officers are increasingly exposed as they help at testing sites or respond to emergency calls. A typical day can mean having to decide on a case-by-case basis how to ration supplies and provide adequate medical care. They ask themselves "do I wear a mask? Will this patient be able to make it a hospital? What if I use the supplies I have, like an expired N95 respirator mask? Could I take this virus home with me?"
Texas currently has 7,276 reported cases of COVID-19, according to an interactive database monitored by the Texas Department of State Health Services.
First responders account for many of those cases.
As of March 31, 650 firefighters had reported potential exposure and 136 members of the fire department had self-quarantined, according to the Houston Chronicle. Eight firefighters had tested positive for the disease.
"Basically anytime there's an emergency, the firefighters are on the front lines," Houston Professional Firefighters Association President Marty Lancton told the Chronicle. "This pandemic has added an additional layer to an already dangerous job … the concern is the health and safety of our firefighters when the citizens need us the most."
As of Friday, three police officers in Bryan, Texas had tested positive and were in quarantine.
College Station Police and Texas A&M University Police had six officers in quarantine.
In Brazos County, one deputy is in quarantine.
The database from DSHS shows naturally higher numbers in major cities in Texas, but the majority of Texas counties are reporting at least one or two cases. As of Monday, 157 of 254 counties had reported or confirmed cases.
How are cities protecting their first responders?
San Antonio — the original quarantine location for international travelers returning to Texas nearly a month ago — has taken a major step.
San Antonio announced March 18 that the state's first "large scale and preapproved" testing center was opening. The center has the capability to run 16 tests per hour and will be reserved specifically for the testing of pre-approved individuals, including health professionals and first responders.
And while Gov. Greg Abbott has expanded and loosened the licensing requirements for medical personnel, calling for out-of state-doctors, retired nurses or medical students to step up via executive orders, there has not been a similar action to address the dwindling number of emergency personnel.
There are also concerns about maintaining adequate supplies of personal protective equipment for first responders.
In Houston alone, fire department paramedics and other staff go through about 10,000 units of PPE every day.
In a news conference Monday, Abbott announced that first responders are a priority for millions of pieces of PPE the state has secured. The supply list includes more than 5 million masks as well as thousands of face shields, gloves, gowns and coveralls.
In Corpus Christi, 10 first responders were quarantined after responding to a two-car crash where one of the victims was showing symptoms of the virus. They returned to duty when the victim's test came back negative.
But this example and Lancton's remarks bring to light a sobering truth: first responders, like doctors and nurses, do not have the option of staying home.