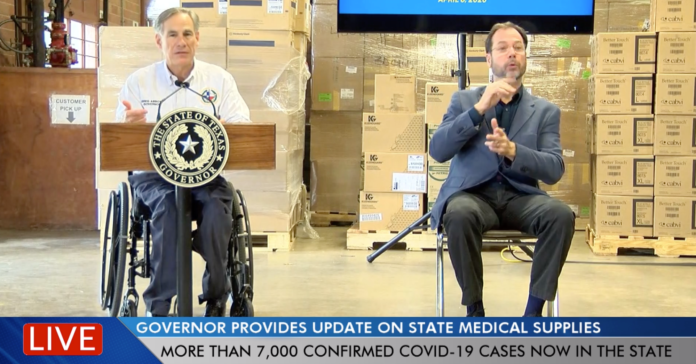 With a backdrop of boxes filled with supplies, Gov. Greg Abbott today announced the distribution of millions of masks, gloves, gowns and other personal protection equipment to health care workers on the frontlines of the COVID-19 response in Texas.
More than 1.67 million masks have been distributed. Another 2.4 million arrived yesterday and approximately 3 million more are expected by the end of the week. In addition, 209,856 face shields, more than 2.7 million gloves, 170,000 gowns and more than 750,000 coveralls have been distributed throughout the state.
"I feel more confident than I ever have with regard to access to PPE," said Abbott.
The supplies are being distributed on a priority basis, with hospitals treating COVID-19 patients at the top of that list. Nursing homes and other long-term care facilities and EMS personnel encountering vulnerable populations are second and third in the distribution chain.
The governor also announced that 30 residents of a Texas City nursing home who tested positive for coronavirus are being treated with the experimental and clinically unproven hydroxychloroquine. They are in the second day of a multi-day regimen. Abbott said he looked forward to being able to provide updates on whether the drug, which has previously been used to treat malaria, is proving useful in the treatment of coronavirus.
Texas remains under an order requiring everyone to stay home unless conducting essential business. In addition, the governor has in place an executive order mandating 14 days of self-quarantine for anyone traveling to Texas from Louisiana, New York, New Jersey, Miami, Detroit, Connecticut, Chicago, Atlanta, California or Washington state.
On Sunday, the Texas Department of Public Safety established checkpoints at all border crossings between Louisiana and Texas.
As of today, 7,276 Texans have tested positive for coronavirus, and 140 people have died. A total of more than 85,000 tests have been administered. 

Here is a link to the Powerpoint presentation from the governor's news conference today.