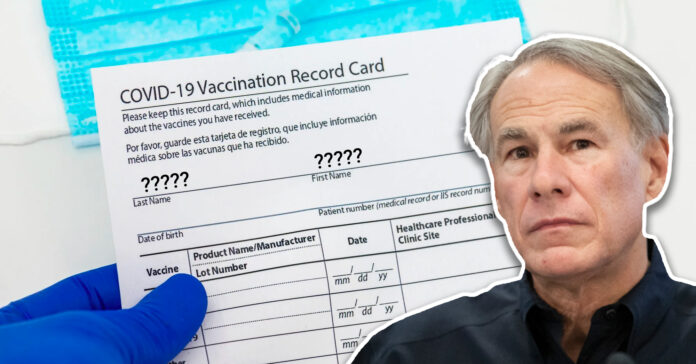 The answer is yes, Gov. Greg Abbott did indeed get vaccinated in December of 2020.

Showing off his vaccinated arm he told Texans, "it's that easy."
And yes, we are talking about the same guy who prides himself on his stance against vaccine and mask mandates. Who, since the beginning of the pandemic, has been fighting government authorities every step of the way, outright rejecting any type of mandate – except his own.

Abbott has continuously preached "personal responsibility" as the best measure to combat the pandemic.

Even at the gravest of times when Texas ICUs were at the brink of collapse, and schools were struggling to stay open due to the lack of staff and personnel. 

Even when Texas was on track to surpass its previous hospitalization record, the pandemic mental health support line abruptly spiked.
Even then, the Governor's aggressive response has consisted of two things:
 Shaking off responsibility by preaching autonomy.
"Texans know what they need to do in order to protect themselves and they don't need the government telling them what to do," said Abbott in an interview with FNC's "Sunday Morning Futures" host Maria Bartiromo.
Priding himself on his 'open policy' by crediting it as the reason Texas has one of the lowest infection rates – a statement which a simple COVID statistics search can overthrow.
"We are open 100%, there are no vaccine mandates or mask mandates. it shows we can remain open and help livelihoods, and also do a good job of protecting lives." Abbott said.
All in all, it's great that Abbott decided to be a role model and got vaccinated. Thanks to that, he didn't present any severe symptoms when he eventually contracted the virus.