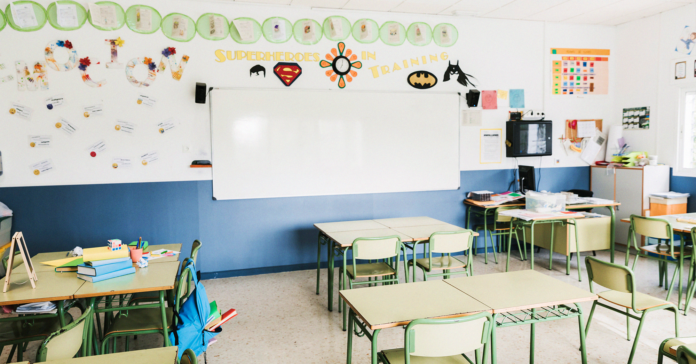 Summer is just halfway over, but already parents and teachers are thinking ahead to what the start of the school year will bring. There are many questions and a lot of fears. Should I send my kid back to school or keep them home? Will school be safe? Will my child fall behind?
As many as 50% of parents in some greater Houston school districts may not send their students back to school this fall, the Houston Chronicle reported. 
Nationwide, about 30% of parents will be keeping their kids home in the fall, a new survey finds. 
Jenna Alyea — a school counselor at Spicewood Elementary School in Round Rock Independent School District in the Austin area — said there could be an impact on the health of a student regardless of if they learn from home or go to school in person. As a counselor, Alyea is focused on a goal to educate the whole child, not just academic skills.
"The biggest reason we would be keeping students out of school is to protect their physical health, but the largest consequence of moving to an online platform I believe will be the effect distance can have on students' mental health," Alyea said. "So much of teaching and learning is based on connection. Research supports this, and I think we will see data in the coming years demonstrating negative mental health impacts due to isolation. Additionally, a big piece of what students learn in a school environment is social-emotional. Learning how to work with others, how to cooperate, how to be around people you don't like, how to share toys, how to ask for help, how to wait your turn, etc. are all crucial skills students learn as a byproduct of being in person with other students."
Alyea also emphasized that there could be many other mental health needs that will likely come as a result of the pandemic as well.
"Students and parents may feel increased amounts of anxiety due to all the uncertainty around COVID-19, increased rates of depression due to social isolation, grief from losing loved ones, and trauma from being in difficult home situations and now losing their place of consistency and safety, school, all due to the pandemic," Alyea said.
Although the Texas Education Agency has delayed its release of final guidance for school districts, it is known that parents will have the option of requesting virtual learning if it is offered by their school districts. 
Houston Independent School District announced in June that it, like many other school districts, is preparing for a blended model, which could include some students learning on campus and some learning from home. In addition to these plans, Superintendent Grenita Lathan has appointed a reopening task force of district staff, health officials and others.
"We've invited parents that have a medical background to be a part of that committee," Lathan told KPRC Channel 2. "And we're looking at all aspects of not only our transport, our buses, but our classrooms, our facilities, the interaction of when a visitor, mainly a parent, comes into the front office of a school."
HISD is the largest district in Texas, and 7th largest in the country, overseeing more than 210,000 public school children. The measures they put in place not only for health and safety, but also for mental health could set an example for many other school districts across the state.
"I know our district wants to make an equitable decision about what learning will look like, and so that must include providing proper support for families who cannot afford childcare while students may learn from home," Alyea said. "From conversations I've had, it seems families understand the necessity of revising the way school has been seen here in Texas, but with that, there still is a lot of anxiety. Humans typically aren't great at experiencing change, and this is a lot of adaptations expected to be made at once."
For parents weighing their options for education next year, Alyea says they may fear their children are already behind academically and will continue to fall behind, and they aren't equipped for teaching at home, either with time, resources or patience. As a result, Alyea's role – and similarly for many other counselors, therapists, and psychologists in school districts across the state – is to provide vital support and guidance for parents and students.
"I am providing psychoeducation for parents and students via online guidance lessons, webinars, and Hangouts," Alyea said. "My goal is to normalize the stress and anxiety they may be feeling while providing an understanding and awareness of what emotions might come up and helpful ways to cope."
As school districts and teachers work together with families to plan well for this fall – and whatever may come after it with the coronavirus – it's essential for educators to continue to have support from the state. Education funding in school districts is a huge issue, Alyea says, and compared to other states, legislative support through funding is sorely needed, especially now, because training and physical resources like laptops or even internet access are crucial to the hybrid education model long term.
A 1.2 billion dollar federal economic relief package for school districts through the CARES Act's Elementary and Secondary School Emergency Relief Fund was supposed to help with the skyrocketing costs of closing schools and learning online but many school districts are having to absorb those costs themselves and won't get the supplemental money intended for virus expenses.
The state is hijacking the money provided by the federal government to your school district intended as relief for costs associated with COVID-19, Troy Reynolds, the head of Texans for Public Education wrote in a Reform Austin op-ed.
Alyea, a native Indianan who moved to Houston to teach after she graduated college, can clearly see the differences in equity for education from her personal experience.
"In my experience, Texas is lagging behind in this area. My mother is an educator in Indiana, and in their rural district before this past school year they already had at-home learning days as part of their regular school year, and so moving to an online platform was an easier transition," Alyea said. "Here, in Texas, we do not have one-to-one technology for children, we have not made sure all students have internet access at home, and in order to even strive for equity, students must have these tools as the starting point to gain access to the materials."
Educators like Alyea and district leaders like Lathan are doing the best they can to quell fears from parents, equip teachers to teach and guide well and students to succeed in both emotional and academic ways during the school year – especially as the state will require students to take the STAAR test in the 2020-2021 school year, coronavirus or not. 
"We really want our students to build resiliency, and this can be a great opportunity to foster the coping strategies needed to do so," Alyea said. "I don't know what the fall will look like specifically in terms of the format we will use for equipping students, but regardless I will support my students and find new, creative ways to engage and foster their own social-emotional learning processes."