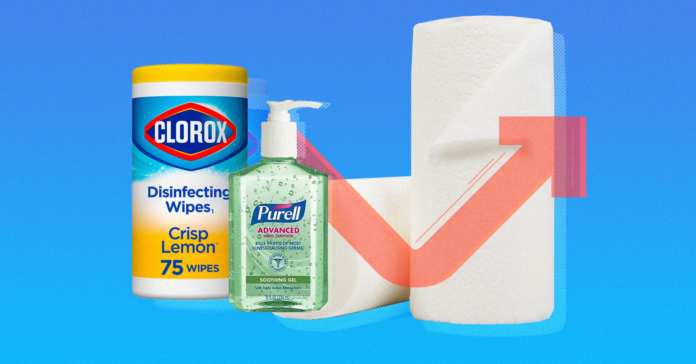 Texas' attorney general has been overwhelmed with complaints of price gouging and profiteering over supplies that have been in high demand and nearly impossible for many to find in stores.
Over the course of the month, the attorney general's office has received more than 5,529 complaints from Texans over exploitative pricing on items like disinfectant wipes, toilet paper and hand sanitizer.
Despite the push to increase production on items in limited supply, a number of businesses have surpassed the novel economic circumstances and have begun taking advantage of the growing anxiety caused by coronavirus disease 2019.
The attorney general's office has filed suit against at least one company, Auctions Unlimited of Houston, for allegedly gouging the price of much-needed protective masks. 
In Texas, laws against price gouging are activated during an emergency disaster declaration. Under the Texas Deceptive Trade Practices Act, anyone caught taking advantage of the demand for emergency necessities may be required to reimburse consumers and may be accountable for civil penalties of up to $10,000 per violation with an additional penalty of up to $250,000 if the affected consumers are elderly.
"My office will work aggressively to investigate and prosecute any price-gouger who takes advantage of a disaster declaration by selling necessities at an excessive price, including retail suppliers in grocery and pharmacy chains," said Attorney General Paxton.
However, it is not just sanitation items and protective equipment that are seeing inflated pricing. Many have also reported a surge in exorbitant price increases on grocery items, and Texas gun sellers have seen 123 price gouging complaints.
In addition to brick-and mortar-retail, nine Texas legislators, along with other lawmakers, have asked Amazon and other online retailers to crack down on price gouging. 
Texans who believe they have encountered price gouging or disaster scams should call the office of the attorney general's toll-free complaint line at 800-621-0508 or file a complaint online. For additional information on disaster scams, please visit the disaster scams website.   
For information on the spread or treatment of COVID-19, visit the Texas Department of State Health Services.