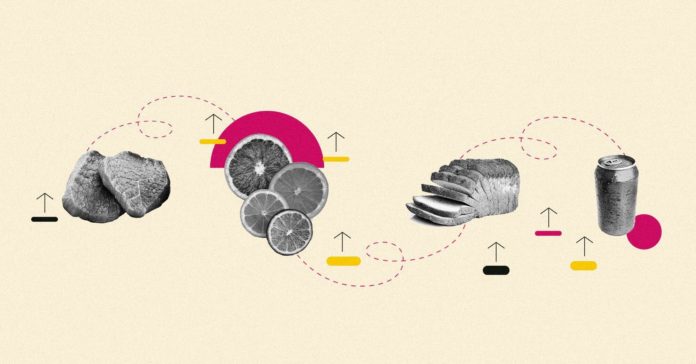 Texans might be saving money by staying home more, but they may have noticed they're spending a little more than normal on groceries.
That's because of the economic impact coronavirus has had on the grocery industry, raising prices to the highest they've been since 2012.
When the coronavirus became a global health crisis, causing the closure of many restaurants and bars, Texans headed to the store to stock up, much like they do for hurricane or storm prep. Long lines at the grocery store were a common sight and signs advised shoppers that items like meat, pantry staples, health care items, and of course — toilet paper — would be limited to just a few per customer.
The USDA released a report last week detailing just what kind of economic damage the virus has done to the "food-at-home" industry. The Food Price Outlook — which predicts food inflation for the entire year, among other data — estimates that grocery prices will rise by a higher-than-average 2.5% this year — double the previous estimate.
This is in addition to what shoppers have already experienced over the last few months at the grocery store: the price of groceries grew 2.6%, including seasonal adjustments, in April. That was the biggest increase from one month to the next since 1974, according to the Bureau of Labor Statistics.
What Costs More?
Foods in nearly every category have seen some increase in price. 
The overall cost of meats, poultry, fish, and eggs has increased by 4.3%, the largest increase of any single grocery category. Meat products spiked by 3.3%, with chicken and hot dogs both going up more than 5%. Eggs — though normally fairly cheap with a good shelf life — will also cost you a bit more. Their prices have risen a whopping 16.1%.
Overall, citrus prices are up more than 4%. Other foods that have seen increases of 2% or more have included bread, juice, soda, baked goods and canned vegetables.
Some items have actually decreased in price — prepackaged salads (down more than 3%) are among them, perhaps because Texans have been working from home and have less need for a grab-and-go meal.
Economic Impact
The pandemic hasn't just affected shoppers. Agricultural, manufacturing, farming and meatpacking industries are all feeling the hit. Dairy farmers who provide huge amounts of milk to school cafeterias had to dump out millions of gallons of unused milk last month because of school closures. 
High demand for certain products combined with limits on buying to prevent panic shopping has created a unique grip on the grocery supply chain. In addition, school cafeteria and restaurant closures have forced commercial food suppliers and manufacturing plants to lay off workers or shutter plants. According to the USDA, U.S. meatpackers ran at roughly three-fourths capacity during April as outbreaks of the coronavirus forced some of the country's largest meat plants to close temporarily. The industry seems to be rebounding, but USDA analysts also warned that the risk of a resurgence of the virus could cause issues in the future. 
Bad for Food Banks
For Texans living in urban areas that are considered "food deserts," rising grocery prices raise other questions and concerns about food security. Fifteen percent of adults in Houston don't have a car, so if you don't live on a bus route with a grocery store, that can be considered a food desert, Children at Risk president and CEO Bob Sanborn said. Food insecurity for low-income families or kids who got a majority of their meals at school are serious concerns in the face of rising grocery prices. 
In other towns, where suppliers can't get shipments to stores often or easily or a county lacks a single large chain grocery store (Texas has 58 counties that are considered food deserts), shortages of certain staple food items for longer or increased prices has made it difficult for vital food banks to stay stocked.
What Can You Do?
In addition to buying only what you need and can use up before it goes bad, Texans should shop around if they can. Data has suggested many Americans are buying their groceries in bulk (like at Costco) and in one place, by taking fewer trips to the store. One tip to find better selections is to try local groceries or corner stores, or international food stores, which typically have well-established supply chains and are working hard to meet demands. 

Here's a piece of good news for Texans. Last year, a survey on the most affordable grocery store locations in the U.S. put seven Texas cities in the top 10. Even though Texas isn't immune to the economic effects of the coronavirus on groceries, food in the Lone Star State started out in a very affordable spot before the virus hit.