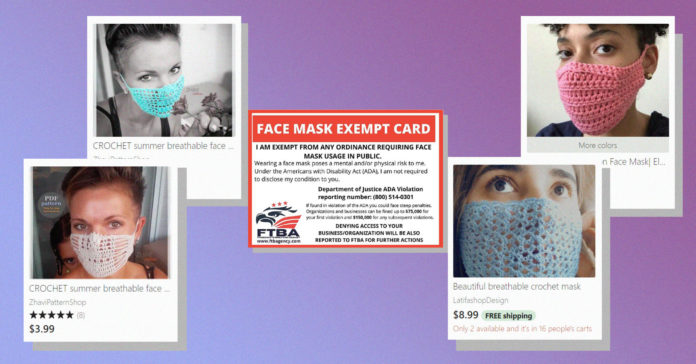 Masks have been proven to be the one thing that can help stem the spread of COVID-19, but there are some disturbing trends emerging among those who still refuse to wear them. Among those trends are fake mask exemption cards and masks that offer no protection.
There are various versions of the mask exemption card. One attempts to invoke the backing of the U.S. Justice Department and the Americans with Disabilities Act. Another claims to have been issued by the Freedom to Breathe Agency, which has no ties to any federal or state agency.
"The Department of Justice has been made aware of postings or flyers on the internet regarding the Americans with Disabilities Act and the use of face masks due to the COVID-19 pandemic, many of which include the Department of Justice's seal," reads a scam alert from the Justice Department. "These postings were not issued by the department and are not endorsed by the department. The department urges the public not to rely on the information contained in these postings and to visit ADA.gov for ADA information issued by the department."
Lenka Koloma, founder of the Freedom to Breathe Agency, told NBC's TODAY show that the cards never stated that they were issued by the ADA or the DOJ, and that these names were only mentioned to "tell people the references under which they are protected."
The cards have sparked a lot of discussion on social media.
"The fake exemption card is disgusting. How many of these people care about the rights of the physically challenged? Then they hide behind fake ailments instead of wearing a mask for 15 minutes," wrote one person on Twitter.
Another tweet stated simply, "pathetic" in response to news about the cards.
Not only are anti-maskers refusing to wear masks, they are also skirting the intent by donning masks that provide no protection. These include crocheted masks, beaded masks, mesh masks and lace masks. They cover the nose and mouth but do nothing to help stem the spread of COVID-19.
Ads for them abound on the internet.
"Make your own Anti Mask!" said the seller of a pattern to create your own anti-mask. The description of the product states: "Stylish, breathable and don't protect you from a darn thing! Masks required? No problem! Breath free while making a statement."
Texas is one of 20 states where masks are mandatory when out in public. A new report by the University of North Texas Health Science Center indicates they are working and might be enough to prevent another shutdown.
A similar study by UT Southwestern Medical Center also shows a slowing in the rate of spread since mask orders were put in place for Dallas and Fort Worth.
Gov. Greg Abbott continues to stress that masks are the way to keep Texas open and people working.