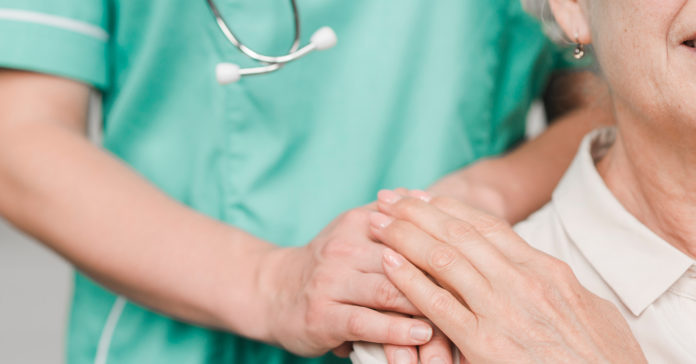 Nursing homes in more than 100 Texas counties are now required to test their staffs twice a week for COVID-19.
The Centers for Medicare & Medicaid Services has released a list of infection rates with each county classified as green, yellow, or red, depending on their COVID-19 positivity rate at the end of August. Counties classified as red must test twice a week. Counties that are coded yellow have to test once a week, and counties that are green only have to test once a month.
In Texas, 108 counties fall into the red category, about 60 counties are yellow and the rest are green.
Of the state's major metropolitan areas, Bexar and Dallas counties are coded red while El Paso, Harris, Tarrant and Travis counties are yellow.
In addition to the mandatory testing of staff, facilities must also test residents when there is an outbreak or residents show symptoms.
You can view the color-coded chart here. 
The new rules are a requirement for participation in Medicare and Medicaid. Individual fines for failing to meet the new standards can exceed $8,000 per instance.
"Regular testing is a good policy because it helps providers to identify the virus," Texas Health Care Association President and CEO Kevin Warren told the Dallas Morning News. "But given the limited supply availability, these providers are not going to be in compliance overnight."
The Texas Health and Human Services Commission announced Aug. 6 it was easing the restrictions that had prevented in-person visits at nursing homes and other long-term care facilities since the start of the pandemic. Since then, just 43 nursing homes have been approved for visitations. 
The requirements have been easier for assisted living centers to comply with. About 750 of them have been approved for visitations.
To obtain approval, facilities cannot have had any staff members with COVID-19 for at least two weeks and no active cases in residents. In addition, staff are required to be tested weekly. Visits have to be outside and they must be monitored by staff. There can be no hand holding or hugging. Social distancing is required.
The inability to visit with loved ones continues to take its toll on families.
"Your emergency measures that are impacting our loved ones in Nursing Homes, Assisted Living, and Skilled Nursing Facilities is having a significant negative impact to the very ones that you are trying to protect," reads a recent post on the Texas Caregivers for Compromise – Because Isolation Kills, Too Facebook page. "Many of the residents at these facilities will not have an improvement in their physical abilities. Their mental health is suffering due to isolation from their family. ISOLATION IS INCREASING THE DECLINE IN THEIR MENTAL HEALTH."
Gov. Greg Abbott provided a little hope for families earlier this week in a social media post from his personal twitter account.
"Family visits at Texas nursing homes and assisted living facilities are resuming. More will be announced in the next week. Reuniting family members is one of the most important steps we can take when opening up," the governor wrote.
The list of facilities that have obtained approval from the state is available here.