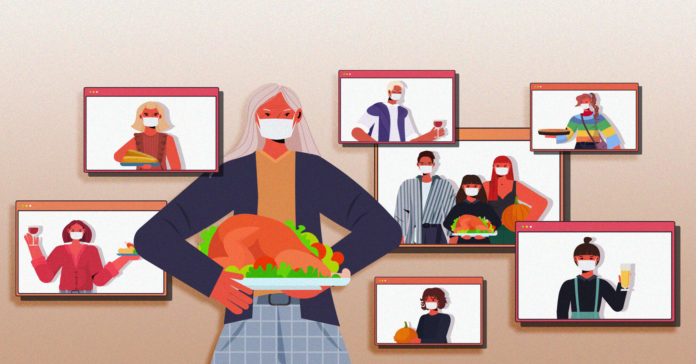 For many families, making plans for Thanksgiving can provide a sense of comfort and relief during a year full of hardship, grief, isolation, and social distancing. 
However before you set off for a memorable holiday, here is what you should know about staying safe.
Statewide Texas reported 8,554 new cases of coronavirus over the weekend. Over the last 7 days, more than 1 million COVID-19 cases were reported across the United States, while cases rapidly rise across the country, the Centers for Disease Control and Prevention have steps to take for a safe Thanksgiving and how to modify plans. 
These recommendations include paying attention to any increased levels of COVID-19 cases in the gathering location, along with the levels in the areas where attendees are coming from. You can find the level of cases on the local health department website.
The CDC says several factors can increase the risk of spreading COVID-19 including traveling through airports, train stations, bus stations, gas stations, and rest stops.
This Thanksgiving, the CDC recommends that being around fewer people is safer than a 'normal time' large gathering, and to consider narrowing down the length of time being spent together. "Being within 6 feet of someone who has COVID-19 for a cumulative total of 15 minutes or more greatly increases the risk of becoming sick," the website states.
According to the CDC indoor gatherings pose more risk than outdoor gatherings.
As for the host, be aware of the behaviors of family members and guests prior to the gathering, for example, have the guests practiced social distancing, staying at least 6 feet apart, mask-wearing, handwashing, and other prevention measures? Those who have not, pose more risk than those who have continuously practiced these safety measures, according to the CDC. 
The CDC says to take note of how guests are behaving during your Thanksgiving gathering, and to have safety measures in place throughout the time spent together.
Those who have been diagnosed with COVID-19 and have not met the criteria for when it is safe to be around others, should not attend. Neither should those who have symptoms for the virus, those who are waiting for viral test results, those who may have been exposed to someone with COVID-19 in the past 14-days, and those who are at an increased risk of severe illness from COVID-19, according to the CDC.
In Texas, the Texas Department of State Health Services (DSHS) has guidance on how to decrease the spread of COVID-19 and still have a memorable Thanksgiving, including hosting a virtual Thanksgiving dinner, as one of the safest ways to celebrate. 
If you are going to be in-person with family or friends the agency suggests to talk ahead of time to set expectations about the precautions everyone should be taking, to keep gatherings small, and to wear facial coverings that completely cover your nose and mouth.
The DSHS guidance also says to maintain six feet of physical distance between people who don't live together, eat and spend time together outside instead of inside, and if you are inside, open windows to improve ventilation.
This year, the DSHS suggests asking guests to bring their own food rather than sharing dishes and utensils.
Narrowing in on the Austin area, last week Austin-Travis County officials announced a shift from a stage 3 level of risk to the community from the CVOID-19 pandemic, to stage 4, based on upward trends of hospitalizations, ventilator usage, and positive coronavirus cases. 
"We know this virus is especially dangerous to older adults and those with underlying medical conditions," said Austin Public Health's Director Stephanie Hayden. 
"As you are making holiday plans, remember your parents, grandparents, aunts, uncles, and other loved ones who could face serious complications. Consider starting new traditions and celebrate only with your household," she added.
Under Stage 4 it is recommended to avoid social gatherings and any gatherings of more than 10 people and to avoid non-essential travel. Higher-risk individuals (those over the age of 65 and those who have chronic medical conditions) should stay home unless it's for an essential trip such as buying groceries or seeking medical care, states the Austin Public Health website.
APH is recommending additional precautions over Thanksgiving including bringing extra masks and hand sanitizer to keep you and others healthy and to avoid contact with people outside your household for 14 days after getting together. 
APH also says it's a no-go to handshakes and hugs. Also, while you are spending time with your family APH says avoid singing, chanting, or shouting especially when not masked.
Over the weekend, Travis County health officials reported 260 new positive cases of coronavirus.
Last Friday Gov. Greg Abbott said the state will not have another shut down.
Here's more on what colleges and universities are advising for students returning home for the Thanksgiving holiday. 
Here's more on Black Friday shopping and deals you can score.
The CDC also has tips for coping with the stress of the holiday.