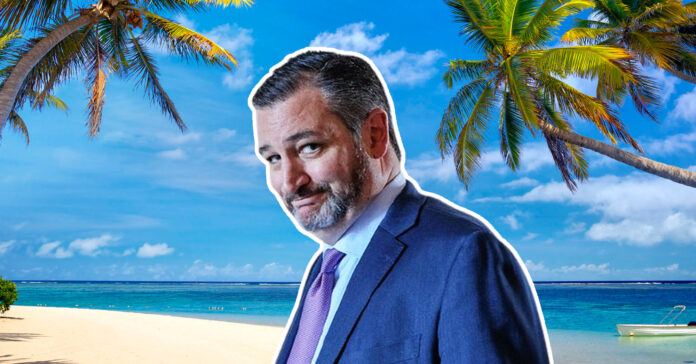 Ted Cruz really gives a new meaning to the quote "Any press is good press". The senator can't seem to stop making jokes about the time he abandoned Texas in the midst of a deadly winter storm that left hundreds dead and millions without power.
To be specific, 4.5 million Texans lost power and at least 210 people died of hypothermia and carbon monoxide poisoning, according to the official report from the Federal Energy Regulatory Commission.
A week after that report was released, Cruz decided it was a good idea to joke about his trip to Cancún, in an effort to condemn high-profile California Gov. Gavin Newsom for vacationing in Mexico for Thanksgiving, while the state is in a COVID-19 state of emergency.
Cruz quoted the tweet of the news: "Cancun is much nicer than Cabo."

Newsome extended California's COVID-19 state of emergency – that has been going on for 20 months – as a preventive measure for the upcoming winter, while Cruz abandoned his state and after receiving backlash, blamed his daughters.
The tweet also received backlash on social media with one user replying: "People in TX froze to death. But go ahead, make a joke."
Cruz has stated several times that the trip was " a mistake". Yet he doesn't seem to be remorseful, having joked at least 3 times about his fleeting vacation.

The first joke he ever made was just days after he got caught fleeing the state. At the Conservative Political Conference in Orlando, Fla.

"I gotta say, Orlando is awesome," Cruz said during his opening speech at CPAC. "It's not as nice as Cancún – but it's nice."
Later in October, Cruz responded to a tweet from Republicans about President Joe Biden going "on vacation" to his home state of Delaware.

"Cancun is lovely this time of year," Cruz tweeted.

If the politics gig doesn't work out for Cruz, he can always rely on his good sense of humor to build a career in comedy or maybe even in marketing at a travel agency… in Cancún.
Here is a compilation of how the whole Cruz-loving Cancún drama has played out.