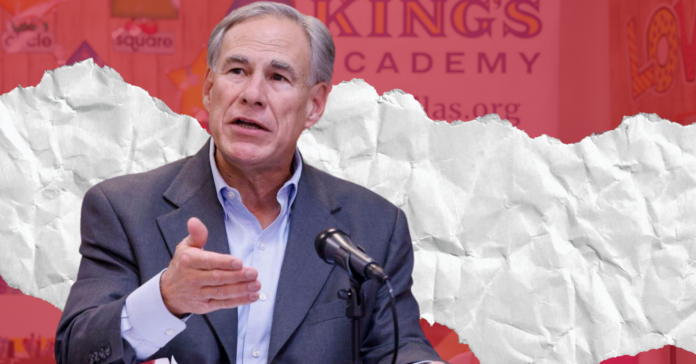 Gov. Greg Abbott continued to tout his pro-voucher agenda in a South Dallas Private school on Thursday.

Abbott has made parental rights a priority for his campaign and has said he supports parents' "choice to send their children to any public school, charter school or private school with state funding following the student." 

In a roundtable at The Kings' Academy, on Thursday, Abbott said the state should not have the authority to keep children in public school systems where they're not succeeding.

"We need to understand that some schools may provide a one-size-fits-all approach to educating our kids, and the fact of the matter is not all kids are that same size — different kids need different programs," Abbott said, as reported by The Dallas Morning News.

As conservatives appear to be preparing to push toward school vouchers or similar initiatives in the next legislative session, they seem to have forgotten the major teacher exodus Texas is facing.

Texas American Federation of Teachers President Zeph Capo took a shot at Abbott, criticizing the governor for appearing to lean into vouchers at a time when the state is struggling with teacher shortages and lags behind others in educator pay.

"While he spoke of "parental empowerment" and "different options" for education, Abbott may have avoided the word "voucher," but that's exactly his goal," Capo said in his statement. "It's no surprise, though, that he'd avoid talking transparently about vouchers given so few Texans support them."
Abbott's Democratic opponent, Beto O'Rourke, agrees with Capo, arguing it's wrong to funnel state money away from public schools, which serve more than 5 million children.
"Abbott wants to defund our public schools with a voucher program that takes our tax dollars out of our kids' already underfunded classrooms," O'Rourke tweeted earlier this month.

It has become increasingly obvious that amongst the GOP party, how a candidate feels about vouchers and parental rights has become an important test that could make or break them in the upcoming elections.

Sen. Ted Cruz has even referred to it as the "civil rights issue of the 21st century."