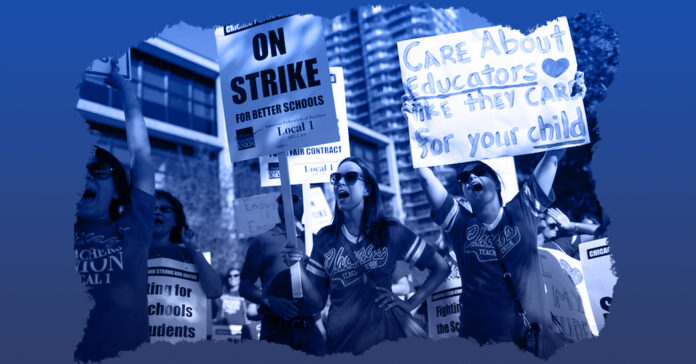 In another segment of rightwing activists attacking Texas educators we present: the takedown of Social and Emotional Learning (SEL).

Although K-12 teachers have employed SEL since the 1990s, the Texas Public Policy Foundation suddenly decided it has a problem with it.

SEL was implemented to encourage children to develop self-esteem, manage emotions, and empathize with others. However, TPPF thinks SEL pushes children to suicide.

According to the Houston Chronicle, TPPF fellow Carol Swain warned in a recent email blast that SEL is used to teach CRT and other concepts prohibited under Texas state law, like the "1619 Project."

"I fear it is creating mental health problems in children," Swain wrote. "The question for Texas, like other states that have made efforts to remove critical-theory-based concepts from K-12 classrooms, is how to close and lock the door — to prevent social justice warriors and activist teachers from using SEL materials and their own values to evade the intent of 'prohibited concepts' legislation."

The battle against SEL is part of a decades-long effort to rally parents against public schools, and as a result, it's driving thousands of teachers from the field.

With two-thirds of teachers wanting to leave their jobs in the past year, Texas is suffering a teacher exodus crisis. Anti-mask protests, book bans, accusations of "wokeness" and school shooters have only exacerbated the two most significant pressure points – low pay and overwork.

Texas already ranks 35th in the nation in pre-K through 12 education, U.S. News and World Report determined and WalletHub ranked the quality of Texas's education as 33rd in the country.

Teachers being forced out of their professions will only make this worse.

Meet the Culprits: Tim Dun and Farris Wilks.

The decades-long battle against Texas public education has been commanded by two conservative oilmen and part-time preachers who wish to destroy K-12 education.

Tim Dunn and Farris Wilks have long supported the most right-wing, anti-public education candidates. Dunn serves on the TPPF board and chairs the Texans for Fiscal Responsibility board. Wilks is the largest donor to Texas Right to Life. Both men finance Empower Texans, a political action committee considered the right's enforcers.
According to CNN's Ed Lavandera, it is through these organizations that billionaires coerce Republican elected officials to follow their agendas.

"It is a Russian-style oligarchy, pure and simple," explained state Sen. Kel Seliger, a conservative Republican retiring next year. "Really, really wealthy people who are willing to spend a lot of money to get policy made the way they want it – and they get it."

Their most pressing issue is passing a school voucher bill that allows parents to spend state money to send their kids to private, religious schools, effectively defunding public schools.

Alongside, Lt. Gov. Dan Patrick, Dunn, and Wilks have helped set public schools up for failure by cutting their budgets.

According to Every Texan, a non-partisan, nonprofit policy institute, Texas lawmakers have shrunk spending per student over the last 15 years.

Texas spends $9,900 per student, while the national average is $13,185, the Education Data Initiative reported.

Over the last decade, Dunn has contributed more than $18 million to state candidates, while Wilks has given more than $11 million, putting them among the top donors in the state.

"These are extreme people investing a lot of money in our politics to reshape Texas, such that it matches up with their vision," said Scott Braddock, the editor of Quorum Report, referring to Dunn and Wilks.

Meanwhile, in a statement to CNN, Texas Senator Ted Cruz called the Wilks brothers "the epitome of the American dream" and "fearless champions of conservative causes, much to the consternation of the corrupt corporate media."

On that note: he who pays the piper calls the tune.