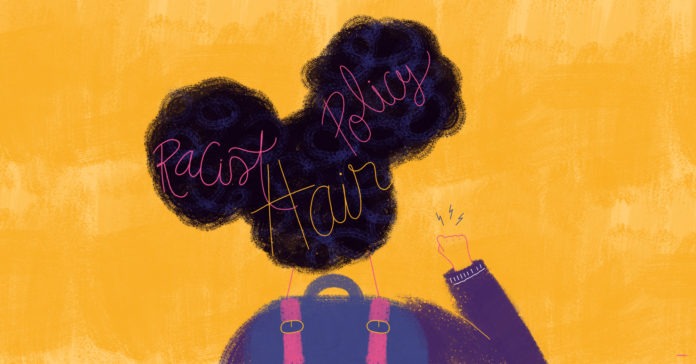 The school board of Barbers Hill ISD voted unanimously last week to uphold a dress code policy that has affected their small Black student population. The fight will continue in the court system.
DeAndre Arnold and his cousin Kaden Bradford both wear their hair in long dreadlocks. Previously, the boys adhered to the school dress code by tying their hair up so that it was above their collars. However, the school changed the code in December 2019, saying that hair on boys was required to be above the collar even when worn down.
"The dress code explicitly discriminates on the basis of sex , but it also doesn't take into account the fact that different people from different backgrounds wear their hair in different ways," said Brian Klosterboer, a lawyer with ACLU Texas representing Bradford. "The district has explicitly targeted black students."
Lawyers for the boys, including the NAACP Legal Defense Fund, provided the school with two hundred examples of white male Barbers Hill students who were allowed to participate in school activities and even walk at graduation with hair below their collars. The school was unmoved by this argument.
"They want the standards without having to meet the standards," attorney Hans Graff told Houston Public Media. "They want to be treated differently. They're saying, 'We want the academic excellence, we want the excellence of Barbers Hill. But we don't want to comply with what it takes to achieve that.'"
Klosterboer points out that the boys are of West Indies heritage, with their family hailing from Trinidad. Dreadlocks are a common, natural hairstyle there. Because of the style's nature, they cannot simply be cut short because they will unravel.
"This clearly is trying to impose the white norm," said Klosterboer.
Arnold and Bradford have since been pulled out of Barbers Hill by their parents. They are suing the district in federal court, a fight that the ACLU is confident they will win.
"The board's decision was disappointing, particularly now when we are all re-examining our assumptions about culture," said Klosterboer. "The district is out of step with modern law. Thirty years ago, there were court cases where the Supreme Court of the United States said they weren't going to wade into local codes. However, they have made it clear very recently, such as in Bostock v. Clayton County, they will step in on discrimination. Barbers Hill is relying on a lot of old and out-of-date cases from the Texas Supreme Court."
If recent similar incidences are any indication, Barbers Hill is fighting a losing battle. There was a similar case in the Houston area involving Needville ISD and a Lipan Apache boy whose long hair was against the school's dress code. The case, Arocha et al. v. Needville ISD, eventually found its way to the Fifth Circuit of appeals in 2010. There, they held that his long, braided hair was a legitimate religious expression and the school could not force him to cut it.
However, though they won the fight, the battle was long and draining. The boy was subsequently pulled from the district and moved to another school.
"It lasted years, and it was exhausting," said his mother, Michelle, who asked that her last name not be used. "It was stressful for him because he was five, and they put him in in-school suspension for a month. Needville is such a tiny town. The culture out here is people who have lived in the same place for generations and don't want change. It's very backwards and small-minded. They don't have a lot of people of color out this way, and they don't want to be like 'the big city.'"
Arocha was decided on religious rather than discrimination grounds, but the case of Arnold and Bradford likely has many layers. In addition to the obvious and outdated binary gender discrimination inherent in the dress code, it's likely to also affect LGBT students who do not fall into traditional gender presentations. On top of that, Klosterboer points out that prohibiting long hair on boys even when worn up is a First Amendment violation as it dictates what hairstyle can be worn even when not on school grounds.
"They have never really explained why they changed the rule, but we suspect it was to target their small Black population," he said. "It is unfortunate that the district is spending so much money upholding discrimination. They are trying to pretend it's about the length, but it's also about the style. It's not the government's role to tell you how to wear your hair."