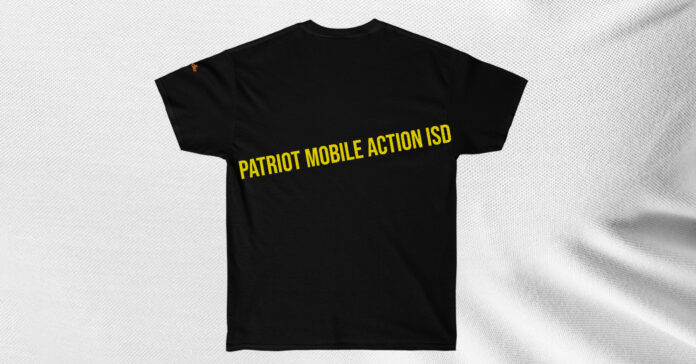 For the Texas-based Christian cellphone company, Patriot Mobile, God's calling means keeping political agendas – as long as they are not Republican- as far away as possible from their children's schools.

Ever since former Trump adviser Steve Bannon declared that conservatives needed to win seats on local school boards to "save the nation," Glenn Story, Patriot Mobile's president, went out, found 11 candidates to support, and won every seat.

In an interview with Bannon from the floor of the Conservative Political Action Conference, in Dallas on Aug. 6, Story said his company not only won 11 seats but took over four school boards.

"Eleven seats on school boards, took over four!" Bannon shouted as a crowd of CPAC attendees erupted in applause.

Continuing their mission to make public schools more "Godly," the Grapevine-based company also created a political action committee, Patriot Mobile Action, and gave it more than $600,000 to spend on nonpartisan school board races in the Fort Worth suburbs, as first reported by NBC News.

Patriot Mobile has presented its candidates as patriots who would "keep political agendas out of the classroom."

Their main enemy: wokeness.
The heavenly battle against wokeness.

Ever since they set out to erase woke ideologies from public school classrooms, Mobile Patriot has been able to shift the needle in more than one school district.
Keller Independent School District passed a new policy that led the district to abruptly pull more than 40 previously challenged library books off shelves, including a graphic adaptation of Anne Frank's "The Diary of a Young Girl."

Carroll Independent School District received framed posters that read "In God We Trust." This comes in response to a new Texas law that requires the district to display posters in each of its school buildings.

Trustees at Grapevine-Colleyville Independent School District voted 4-3 to implement a far-reaching set of policies that restrict how teachers can discuss race and gender. The policy also restricts the rights of transgender and nonbinary students to use bathrooms and pronouns that correspond with their genders.

During an interview, Leigh Wambsganss, executive director of Patriot Mobile Action and vice president of government and media affairs at Patriot Mobile, said the company wants to expand to other counties and eventually be in every state across the nation.

"We're not here on this earth to please man — we're here to please God," Wambsgnass added.