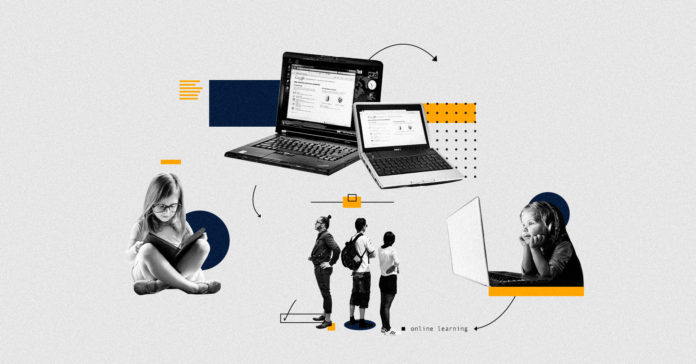 This summer, instead of school shopping for backpacks, parents will be looking for deals on technology and tech gear to prepare for their kids to learn online.
It can be stressful to prepare for a new normal and create a learning environment at home, and Dr. Carrie Cutler, clinical assistant professor at the University of Houston College of Education, shares her thoughts about diving into the virtual learning space with her family this fall.
"As a mom and educator, I'm eager to tackle some of the challenges associated with online learning. While I can't control the lack of face-to-face experiences for my kids, I can work to make the experience as stress-free as possible by being prepared for online learning this fall."
Here we present six laptops that would be great for students of all ages from kindergarten to senior year.
Acer Chromebook: This is a perfect budget-friendly laptop for your students and their projects. This laptop is super-thin and lightweight. It has a camera, fast wireless connectivity ability and long battery life.
If you want some extra features, look at the Acer Chromebook Spin, a convertible laptop with a touchscreen that would work for your child during class and for personal use as well. Depending on the size and style, the price ranges from $289 to $400 on Amazon.
Samsung Chromebook: This option is affordable and perfect for elementary-age kids. It's sleek and lightweight, and while this isn't probably the laptop for your gamer or video editing teen, it is good for younger kids, their schoolwork and their virtual classroom. The Chromebook is "very decent for the price, very light, quick start-up" according to one review. Amazon, $248
Lenovo Touch Screen Chromebook: Touch-screen laptops are hot right now. A five-star review said, "a lightweight laptop/tablet that's inexpensive and starts up real fast. Also the battery is awesome!" Best Buy, $299.
Lenovo Chromebook 2-in-1 Convertible Laptop: This is a high-performing choice and is similar to the Acer Chromebook Spin in style. A review says that "the speed is snappy." You want speed when it comes to working from home while kids are learning from home because you will have fewer interruptions and more productivity. Amazon, $362.
HP Chromebook Touch Screen: This is a workhorse and a reliable laptop with great display size, memory storage and battery life. It can rotate 360 degrees, and the device can be used for academic projects in four positions. Amazon, $362
Apple MacBook Air: For your student wrapping up their high school years, an Apple MacBook Air would be a good choice for long-term use for all their academic projects now and later. This high-quality laptop could be taken with them onto the next stage of their life. Consider a renewed one, especially during these times when many families are watching their budgets. (Another grown-up option for older students of the Microsoft Surface Go.)
"Google Chromebooks and traditional laptops work well for students in high school and junior high, but a desktop computer may be sturdier and easier to navigate for elementary and preschool-age kids," said Dr. Cutler.
One PC Per Person
The National Retail Federation's vice president of computing and graphics, Rick Bergman, is saying the pandemic has created a trend toward one-per-person PC demand.
For a budget-friendly desktop option consider the Dell Inspiron One 2020. 
The HP All-In-One is another desktop option for kids getting a grasp on their new virtual learning life. It could be a good budget option.
"Think about the mouse your child will use, too," said Cutler. "Your child may work more efficiently with an external mouse rather than the mouse pad on a laptop or notebook. And consider going with an old -school wired mouse since the wireless type (or at least their USBs) are easily lost."
When setting up a workspace for your kids, if you are looking for a budget-friendly option consider these desks for all ages.
Headphones
"Regular wired or wireless headphones kids use to listen to music also work fine if your child won't be talking during a class meeting — if they're watching a video asynchronously, for example," said Cutler.
"I find that my own kids can focus better when they're wearing headphones."
Cutler suggests the Logitech USB Headset H340. "The headset is adjustable down to an elementary-age child's size, and the microphone is short so it works well for kids. Note that some headsets must be plugged in via USB, so they don't work on smart phones."
Here are three headphone options to consider for kids: foldable cord headphones, durable options, and headphones under $20. Or surprise your senior with some earbuds. 
Beyond Tech
You'll still need some old-school supplies.
"You'll still need some traditional necessities like paper, pencils, pens, crayons or colored pencils, glue, scissors and binders (one for each subject or one binder with subject-area dividers)," Cutler said. "Stay organized with a bin or special place for each child to keep their supplies."
Stock up on printer paper and ink so that your child can print out and work problems using paper and pencil, a handwritten method if desired, suggests Cutler.
"The best tool you can provide your kids this fall doesn't require batteries, the internet, or charging up — it's you!" Cutler said. "Kids take many of their cues about attitudes, beliefs and behaviors from the adults who care for them — mainly parents and teachers. So, speak positively about school despite all the challenges we're facing right now. Talk nice about teachers who are working their tails off for your kiddos. Encourage your children to work hard even when things are tough. Don't become frustrated by technology; ask for help. Most of all, be your children's cheerleader. Years from now, they may not remember all the school lessons from this difficult time, but they will remember how they felt — cared for, supported, encouraged, and loved."
Dana Strong, president of Xfinity Consumer Services, said in June, "now more than ever, connectivity has become a vital tool for families to access educational resources for students, important news and information about their community and the world, telehealth applications, or to stay in touch with family and friends."
To help provide additional support to students and families, Comcast announced it will continue to provide 60 days of free Internet service to new, eligible Internet Essentials customers.
Here's more coverage on schools reopening in Texas and keeping your kids learning this summer.
Tarrant County Schools' In-Person Reopening Delayed
Easy Ways to Keep Your Kids Learning This Summer