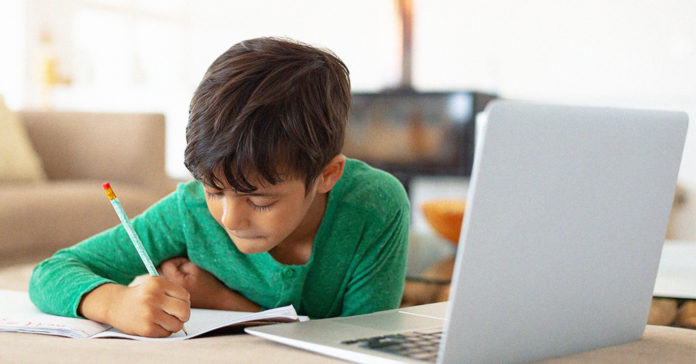 Of the many problems for schools caused by the coronavirus pandemic, chief among them may be the loss of learning that students have experienced by being away from the classroom. With over 150,000 students missing from school altogether and many students learning remotely, the problem represents a seemingly insurmountable challenge for many Texas public school districts.
Students falling behind due to the absence from school represents nothing new to public school teachers. The Texas Education Agency (TEA) estimates that the learning loss of students in any given year over the summer break, known as the "summer slide" hovers around two and a half months. When you add the lost time in school due to the pandemic, the estimate increases to nearly six months for the 2019-2020 school year.
The current school year could be worse, according to Commissioner of Education Mike Morath. Recovery from the COVID-19 pandemic could be long-term according to Morath, who said "This is going to be a four or a five-year project for us as a state."
The TEA recommends "more rigorous instructional materials designed to make up ground lost during the pandemic, supporting teachers who are equipped to deliver excellence, getting more than one year of growth in one year, and more time for the students most in need, including in the summer."
The American Rescue Plan (ARP) Act of 2021 adds $12.4 billion to Texas public schools with a significant amount of the funds dedicated to addressing learning loss due to the pandemic. A part of the Elementary and Secondary School Emergency Relief (ESSER) Fund, ARP ESSER is also known as ESSER III since it is the third stimulus package focused on educational needs.
Many educators think that more resources could help reduce that time frame and enable students to make up lost learning faster.
Dr. David Vroonland, the superintendent of Mesquite ISD, would like to shorten the recovery time to no more than two years.

"We want to get aggressive toward addressing learning loss. To do that we will need federal stimulus money and we will need it fast," Vroonland said. "We don't need the money to go through TEA where the money flow would be slowed through rulemaking processes. School districts should make plans and the state legislature should just send the money."

Mesquite ISD plans to use the money to provide extended learning time and pay instructional stipends to develop a cadre of learning loss teachers.
Two other packages have either been used to fill holes in the Texas budget or are being considered for that purpose. The new law mandates that a "state must subgrant not less than 90 percent of its total ARP ESSER allocation to local educational agencies (LEAs) (including charter schools that are LEAs) in the state to help meet a wide range of needs arising from the coronavirus pandemic, including reopening schools safely, sustaining their safe operation, and addressing students' social, emotional, mental health, and academic needs resulting from the pandemic."
According to the ARP, school districts "must reserve at least 20 percent of funds to address learning loss through the implementation of evidence-based interventions and ensure that those interventions respond to students' social, emotional, and academic needs and address the disproportionate impact of COVID-19 on underrepresented student subgroups." Programs that fit the bill include summer learning or summer enrichment, extended day, comprehensive afterschool programs, or extended school year programs.
But with money for the first stimulus package having been supplanted by the state to fill holes in the budget and the possibility that the second round of stimulus money will also be supplanted, many educators are concerned that ARP money won't be accepted due to federal restrictions. Feeding this concern, capitol visits with various legislators indicate that the state has applied for a "maintenance of effort" waiver from the requirements of the second stimulus package, the Coronavirus Response and Relief Supplemental Appropriations (CRSSA) Act, which would put $5.5 billion into Texas public schools.
If the state receives the waiver and uses the money for other purposes, the recovery time from learning loss for students could increase. Any additional wavering on the acceptance of ARP funds would only exacerbate the situation. The learning loss that the Fort Worth ISD school superintendent Kent Scribner called "historic academic regression" could be worsened with either the rejection of the funds or even the hesitancy to accept them. Acting fast to draw down federal stimulus funds and allowing school districts to deploy them toward critical student learning needs seems essential.
To address this Rep. Geanie Morrison (R-Victoria) filed an Appropriations rider that reinforces federal restrictions on federal stimulus dollars and disallows them to be used to supplant the state budget.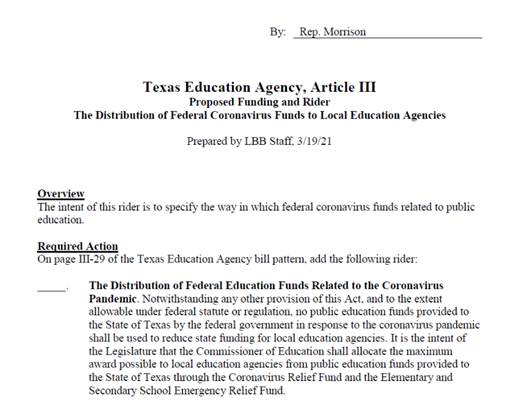 The public-school advocacy group, Raise Your Hand Texas likens the current situation to a three-legged stool. Following through with legislative commitments from the historic House Bill 3, holding schools harmless for attendance loss due to the pandemic, and the acceptance and proper use of federal stimulus packages are necessary components to school recovery—including learning loss.
One thing is sure—if Texas is to move forward as a state, we must have a well-developed and educated workforce. Inappropriate and slow-moving responses to the pandemic endanger that. In a world where the future of our children and our state are in jeopardy, it seems unconscionable that conversations of supplanting or rejecting educational funds are still taking place.
Let's step up Texas, and do what's best for our kids and our state.