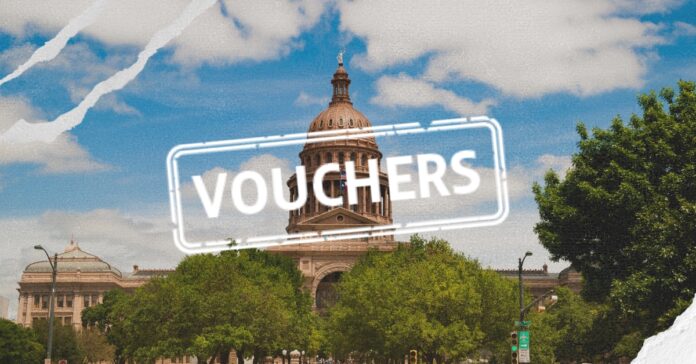 As was previously reported the House Public Education Committee will meet on Monday, May 15 at 8:00 am to consider CSSB 8 (the voucher bill). Since Friday, another committee substitute has been released.
In what would be a major overhaul of the education system in Texas, the State of Texas Assessment of Academic Readiness (STAAR) test would be eliminated along with all high-stakes testing. The STAAR test and its successor would be completely removed by no later than 2027-2028, subject to federal approval of new assessment.
Students would no longer be required to pass an assessment in order to graduate high school. Instead, they would need to pass their classes only. Students who don't receive a high school diploma prior to 2023-2024 because they did not pass a test would be able to request their high school diploma. The individual graduation committees have also been repealed.
For grades 3-8, the one time per year high-stakes assessment would be replaced with through-year testing, which will consist of three test touch points per year. The assessments will be shorter and adaptive to gauge student growth. The benchmark assessments will be eliminated once through-year assessment is implemented. Non-federally required social studies assessments will also be eliminated.
For grades 9-12, the end-of-course assessments have been replaced with a pre-Texas Success Initiative Assessment (TSIA) in grade 9 and TSIA in grade 11. Biology tests will remain to satisfy federal requirements, while US History would be retained.
Accountability measures have been put in place, with CCMR cut scores adjusted every four years and "what/if" models provided to districts to prepare for adjustments.
In addition, the Education Savings Account (ESA) Program will start from the 2024-2025 school year. Each eligible Special Education (SPED) student will receive an amount that is not greater than the average Weighted Average Daily Attendance (WADA) of the student's home district plus $1,500.
Eligibility for the program includes Special Ed (SPED) students and students who attend an "F" performing campus. Siblings of enrolled students are also eligible. Prioritization for the program will be given to public SPED students and students who attend F campuses, followed by private SPED students.
Appropriated funds will be sent to the Comptroller to administer. The funding amount for the first year of the FY 24-25 biennium is $200 million with unexpended balance (UB) authority for the second year. From FY26-27, $200 million will be allocated annually. Students who receive this funding are required to take the STAAR (and its successor) that would be administered to a peer in a traditional public school. TEA shall submit an annual report to the Legislature comparing the results of the STAAR (and its successor) test with those of public school students.
To determine the efficacy of the ESA program, a Commission will be created. The Education Service Centers will host students to take the STAAR (and its successor). If a student decides to de-enroll from the program, the balance of the funding for that year would revert to the public school at which they attend.
The legislation has faced criticism for not prioritizing parental choice over the right of private schools to choose their students. The bill also fails to address teacher retention, funding for public schools, academic achievement gaps, and the individual needs of students. Furthermore, the bill has been found lacking in providing state or federal protections for students with special education needs and does not include a hold harmless for public schools that lose students to a voucher program.
The committee is allowing invited testimony only but you can still register opposition to the bill at the kiosk in the Capitol and you can provide written testimony online at https://comments.house.texas.gov/home?c=c400 .